Las Vegas Betting Stalls as Baccarat Drops, Tourists Skip Tables
Christopher Palmeri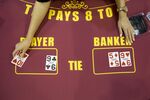 Las Vegas Strip gambling shrank by 2.1 percent to $6.37 billion in 2014, halting a four-year recovery in the U.S.'s largest betting hub.
Winnings from slot machines fell slightly, according to state data released Friday and compiled by CBRE Inc., a real estate brokerage. Revenue from tables games such as blackjack dropped 1.9 percent, while baccarat, a card game favored by Asian players, slumped 7.1 percent after five years of growth.
The results, along with new visitor data, show that the U.S. casino industry is doing a good job of attracting tourists, and is less successful getting them to gamble, even in its premier destination. A crackdown on corruption in China that has crimped high-end betting in Macau is also hurting Las Vegas baccarat play, according to Brent Pirosch, a CBRE analyst.
"If you're Wall Street, it's disappointing," he said in a telephone interview.
It's a different story in terms of the city's total visitors, many of whom come to see shows, eat at restaurants and go to nightclubs. Visitation increased every month in 2014, rising 3.7 percent to a record 41.1 million, the Las Vegas Convention & Visitors Authority said in a release. The average daily hotel room rate rose for the fifth straight year, to $116.73 a night, the report said.
The Strip is home to some of the largest casinos in the world including MGM Resorts International International's Bellagio, Caesars Entertainment Corp.'s Caesars Palace and Las Vegas Sands Corp.'s Venetian.
Casino revenue on the Strip peaked at $6.8 billion in 2007. The market began its recovery three years later but has yet to top that previous high, according to Bloomberg Intelligence.
Total revenue on the Strip, including rooms, food and beverage, rose 5 percent to $16.3 billion in the 12 months ended June 30, the state's fiscal year, topping the 2007 record of $15.8 billion, according to state data from CBRE.
Before it's here, it's on the Bloomberg Terminal.
LEARN MORE