Photographer: Getty Images
Here Are the Top Industries That Hire Career-Switchers
Internet companies, venture capital firms, and even investment banks hired a large number of industry outsiders
by
Good news for job seekers looking for not just a new cubicle but also an entirely fresh start. Many industries in high demand—including computer security, venture capital, consulting, and investment banking—are also the ones that hire the largest proportion of employees from outside, a new report shows.
For a report released Friday, Jan. 30, LinkedIn scoured its data to see which industries were pulling in career-switchers at the highest rates. LinkedIn counted users who added a job in 2014 that was in a different industry than the one they had most recently worked in. The company then calculated what share of users were new among industries with at least 50,000 global users. Internet companies, which had 11.8 percent of employees new to the industry, led the pack, followed by venture capital and private equity (11.1 percent), computer and network security (10.6 percent), and online media (9.9 percent).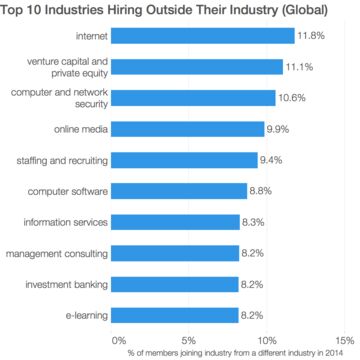 The data showed that while Internet companies have always been a magnet for engineers, they're also bringing in a growing number of people with no coding experience—such as retail experts, business development professionals, and strategists armed with management consulting experience, said Andrew Kritzer, business operations analytics manager for LinkedIn. Venture capital was also an area where industry outsiders—some with experience in food and beverages, others who came from broader backgrounds in financial services—were surprisingly welcome. "VCs need a diverse set of experts to properly source and evaluate new opportunities, as well as manage current investments through mentor, adviser, and board positions," Kritzer said. Other industries that ranked highly on the list absorbed large numbers of employees from closely related industries that have been under financial duress. Companies in the online media industry, No. 4 on LinkedIn's list, hired new employees from publishing, newspapers, and broadcast media "at a fast clip."
Of course, some skills transfer more easily across industries than others. The jump from a print newspaper to an online media outlet is probably easier to make than, say, the jump from a print newspaper to a private equity firm. Still, unhappy workers who have the connections and résumés to move into a new field might be relieved to see they're not necessarily chained to one industry for life.
Before it's here, it's on the Bloomberg Terminal.
LEARN MORE