U.S. Economy Expanded Less Than Forecast in Fourth Quarter
Victoria Stilwell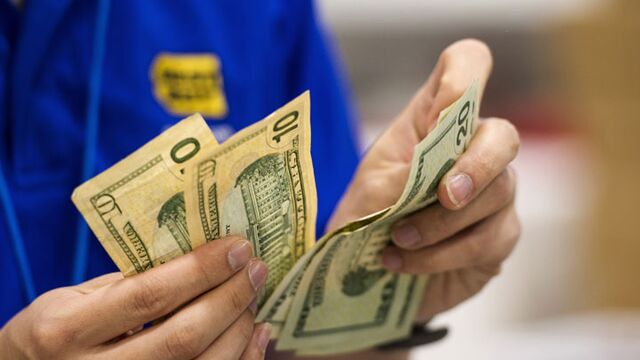 American consumers stepped on the gas in the fourth quarter, just as companies hit the brakes.
The result was that while the world's largest economy grew at a 2.6 percent annualized rate, the gain fell short of the median forecast of economists surveyed by Bloomberg and was well below the 5 percent pace in the third quarter, Commerce Department figures showed Friday in Washington.
Cheaper gasoline and the largest employment increase since 1999 are boosting household confidence, increasing the odds that consumer spending can sustain gains following its biggest advance in almost nine years. At the same time, business investment is cooling as companies such as Caterpillar Inc. say plunging oil prices, a rising dollar and slowing growth abroad hurt sales globally.
"The U.S. economy is very solid fundamentally because it's the consumer that's driving this," said Nariman Behravesh, chief economist at IHS Inc. in Lexington, Massachusetts, who is among the most accurate GDP forecasters over the past two years, according to data compiled by Bloomberg. "You have some negatives too, but by and large we'll have solid underlying growth."
Stocks fell as the slowdown in growth overshadowed a rally in energy shares sparked by a surge in the price of crude. The Standard & Poor's 500 Index dropped 1.3 percent to 1,994.99 at the close in New York. The yield on the 10-year Treasury note declined to 1.64 percent compared with 1.75 percent on Thursday.
Survey Results
The median forecast of 85 economists surveyed by Bloomberg called for a 3 percent advance in U.S. GDP, the value of all goods and services produced. Estimates ranged from 1.8 percent to 3.6 percent.
For all of 2014, the economy grew 2.4 percent from the year before, the biggest advance since 2010, following a 2.2 percent expansion in 2013.
"There are reasons to be optimistic and to expect a further pick-up in 2015," said Aneta Markowska, chief economist at Societe Generale in New York. "Consumption will continue to be supported by the labor market, by the boost to disposable income coming from lower oil prices. Housing is another area that's just due for a bounce-back. Chances are we're going to see some acceleration next year."
Consumer spending, which accounts for almost 70 percent of the economy, climbed at a 4.3 percent rate, more than projected and the biggest gain since the first quarter of 2006. Households splurged on clothing, recreation and going out for a spin in the car as sales of gasoline climbed even after taking into account the drop in prices.
Consumer Expansion
The expansion last quarter was "all about a solid consumer performance," said Guy LeBas, chief fixed-income strategist at Janney Montgomery Scott LLC in Philadelphia, who correctly forecast the fourth-quarter growth rate.
Another report showed American consumer confidence reached an 11-year high in January as a strengthening labor market and plunging gas prices kept households looking on the bright side. The University of Michigan final consumer sentiment index rose to 98.1, the highest since January 2004, from 93.6 in December.
The survey showed Americans were the most upbeat about the economic outlook in a decade thanks to dollars saved at the gas pump and better employment prospects in a healing job market.
"Consumer optimism did not waver in late January," Richard Curtin, director of the Michigan Survey of Consumers, said in a statement. "The improvement has been due to more favorable trends in income and employment as well as the more recent declines in gas prices."
Business Investment
Companies aren't as enthusiastic. Business investment increased at a 2.3 percent annualized rate in the fourth quarter, compared with a 7.7 percent gain in the third quarter. Corporate spending on equipment dropped at a 1.9 percent pace, the biggest decline since the second quarter of 2009.
Machinery manufacturer Caterpillar said lower oil and gas prices are "without a doubt" the biggest reason it's expecting sales to decline to $50 billion in 2015, Michael DeWalt, vice president of finance services for the Peoria, Illinois-based machinery maker, said on a Jan. 27 conference call. The median estimate from analysts had projected revenue of $55.2 billion. "With oil this low, we expect substantial reductions" in spending by fuel producers, he said.
Positives, Negatives
Not all businesses will lose out. Low oil prices are strengthening the outlook for companies like Honeywell International Inc., a worldwide operator in industries from aerospace to energy. The Morris, New Jersey-based manufacturer reported better-than-expected fourth-quarter earnings last week, based on strong sales of security systems and thermostats. The rout in oil prices had little impact on the company's energy services, executives said.
"For the first time in five years, I'm actually a little more bullish on where the global economy is going than economic forecasters are," Dave Cote, the company's chief executive officer, said on a Jan. 23 earnings call.
The "impact to lower oil prices is causing this major redistribution from oil-producing to oil-using economies, and those oil-using economies are quite large," Cote said.
A widening trade deficit as imports climbed three times faster than exports, and a slump in defense spending following a third-quarter surge, held back growth last quarter, Friday's report showed.
Trade Outlook
Trade is the one area that will probably continue to restrain the expansion as exports suffer from slowing global growth and a rising dollar while imports are likely to jump as consumer spending firms, said IHS's Behravesh.
Federal Reserve policy makers are monitoring economic progress as they weigh their first interest rate increase since 2006. In a statement following a meeting this week, the central bank acknowledged global risks, saying that it will take into account readings on "international developments" as it decides how long to keep rates low.
Federal Reserve Bank of St. Louis President James Bullard said in an interview Friday in New York that investors are wrong to expect the Fed to postpone an interest-rate increase beyond midyear, with the U.S. economy leading global growth and unemployment dropping.
"Zero is not the right number for this economy," Bullard said in a reference to the benchmark federal funds rate, which has been kept near that level since December 2008. "It is hard to rationalize a zero policy rate" because the economy has "a lot of momentum."
Incomes Rising
Employment gains are helping boost worker pay. After-tax personal income adjusted for inflation climbed at a 3.8 percent annualized rate in the fourth quarter, the most since mid-2013, the Commerce Department's GDP report showed.
One reason earnings are growing more quickly is that inflation is tame. The price index tied to consumer spending dropped at a 0.5 percent rate in the fourth quarter, the most in almost six years. Excluding food and fuel, it rose 1.1 percent, the smallest gain since the second quarter of 2013.
Fed policy makers and economists alike are watching for signs that the improved labor market is translating into wage gains, which have been slow to materialize throughout the recovery. The employment cost index, which includes wages and benefits, climbed 0.6 percent in the last three months of 2014 compared with a 0.7 percent gain in the previous three months, a Labor Department report showed Friday.
Before it's here, it's on the Bloomberg Terminal.
LEARN MORE