China Dials Back Criticism of Alibaba on Counterfeit Goods
Bonnie Cao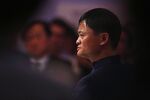 China eased away from a confrontation with Alibaba Group Holding Ltd., saying this week's report criticizing the e-commerce company for failing to root out counterfeit goods didn't have "judicial effect."
Jack Ma, Alibaba's billionaire chairman, met Zhang Mao, chief of State Administration for Industry and Commerce on Friday, promising to step up anti-piracy spending, according to a statement on the regulator's website.
"We will actively cooperate with the government and increase investment to strengthen our existing anti-counterfeit team," Ma said, as cited in the SAIC statement. "We'll enhance daily online and offline inspection and spot check to solve the problem with the authorities together."
The meeting may mark an easing of tensions between the company and the government. The SAIC issued a "white paper" this week that accused Alibaba of allowing merchants to operate without required licenses, to run unauthorized stores that co-opt famous brands and to sell fake wine and handbags. Alibaba employees took bribes, and the company didn't fix flaws in customer feedback and internal credit-scoring systems, SAIC said.
The SAIC now says the report is essentially a meeting memo without "judicial effect," according to a separate statement from the regulator. The government said earlier that the SAIC meeting that prompted the report happened in July, but that publication was delayed to this week to avoid affecting Alibaba's $25 billion initial public offering in September.
Alibaba, which dropped 4.4 percent on Jan. 28 after the initial SAIC report, gained as much as 2.4 percent in New York trading on Friday.
Important Role
Zhang on Friday said Alibaba has an important role in e-commerce and increasing job and entrepreneurship opportunities, according to the SAIC. Alibaba pledged to enhance communication with the government to strengthen marketplace management, according to the statement.
Alibaba had earlier said government inspectors applied standards inconsistently and didn't give merchants enough time to respond to accusations.
"We believe the flawed approach taken in the report, and the tactic of releasing a so-called 'white paper' specifically targeting us, was so unfair that we felt compelled to take the extraordinary step of preparing a formal complaint to the SAIC," Vice Chairman Joseph Tsai said during a conference call on Thursday.
Past Allegations
Alibaba said in its IPO prospectus that there were allegations in the past, and likely would be more in the future, that the company's platforms were selling goods that were counterfeit or infringed on other copyrights, including music.
Alibaba has worked to get rid of counterfeits as it expands internationally, saying it removed 90 million listings for products that breached intellectual-property rights before its IPO. The crackdown is part of Alibaba's effort to build its reputation after becoming Asia's largest technology company.
In December, Alibaba said it spent $161 million from the beginning of 2013 through November to block counterfeit products and boost consumer protection.
"The risks of counterfeit goods still exist, and political risks still exist" for Alibaba, said Cyrus Mewawalla, managing director of London-based CM Research. "The SAIC has merely highlighted what investors have known all along, that Alibaba's platform does have problems with counterfeits and fake orders."
Before it's here, it's on the Bloomberg Terminal.
LEARN MORE