Aussie Banks' Desire to Sate Investor Housing Love Affair Untamed by Threats
Mortgage growth broke through key 10 percent threshold authorities warned would trigger special attention
by and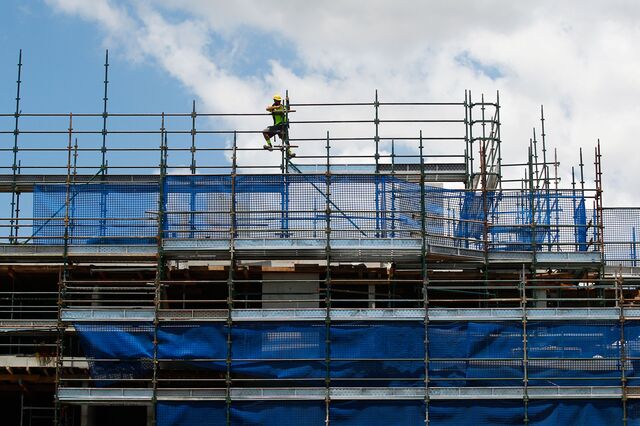 Australian banks appear to be brushing aside threats of a regulatory clampdown, intensifying lending to property investors.
Annual mortgage growth for these borrowers broke through the key 10 percent threshold in December that authorities warned last month would trigger special attention. 
The Australian Prudential Regulation Authority -- the banking regulator -- said Dec. 9 that if banks boosted lending to investors by more than 10 percent, a level unseen since before the global financial crisis, they could face a knock on the door -- and possibly a request to set aside more capital for the loans.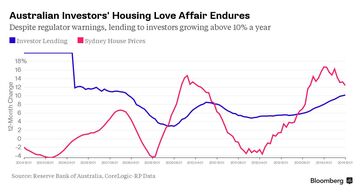 For Reserve Bank of Australia Governor Glenn Stevens, the data is a complication ahead of a Feb. 3  policy meeting where he is forecast to move to an easing bias - and possibly cut interest rates.
The central bank raised concerns in September that investor buying, particularly in Sydney and Melbourne, had led to an unbalanced housing market. House-price growth has since moderated, but if the RBA indicates that it will lower rates and hence the cost of a mortgage, it will be very difficult to persuade investors to turn their backs on the property market and look elsewhere for assets.
"While recent jawboning and greater oversight from the RBA and APRA are likely to cool credit growth among property investors in coming months, the current composition of activity is, in our opinion, something of a constraint to the RBA cutting the cash rate in the very near term,'' Tom Kennedy, an economist at JPMorgan Australia Ltd., said in a research note.
The 10.1 percent increase in mortgages to investors in the 12 months to December is the highest since March 2008, according to RBA data. The central bank said Sept. 24 that investors were starting to distort the housing market and that regulators might take action to slow the growth.
A record-low RBA cash rate of 2.5 percent and the lowest mortgage cost since 2009 had spurred investor demand and a surge in home prices to a record. Investor housing loan approvals are almost 90 per cent higher in New South Wales, whose state capital is  Sydney, than they were two years earlier and are 50 per cent higher over the same period in Victoria state, the central bank said in its semi-annual Financial Stability Review in September.
Home prices rose 7.9 percent in December from a year earlier and doubled in the decade to 2011, according to data from CoreLogic Inc. Sydney house prices rose 12.4 in the 12 months to December, down from a peak of 16.7 percent in April.
Traders are pricing in a 70 percent chance the RBA board will ease by a quarter percentage point at its first meeting of the year Feb. 3, according to swaps data compiled by Bloomberg. Only six of 27 economists expect a cut next month while 12 anticipate a cut by March.
Before it's here, it's on the Bloomberg Terminal.
LEARN MORE