business
American CEOs Most Bearish on Earnings Since 2008 Crisis
Lu Wang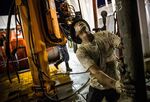 U.S. chief executive officers are more pessimistic about corporate earnings than any time since the financial crisis, according to research from Bespoke Investment Group LLC.
The percentage of companies cutting profit forecasts during this earnings season has outpaced those with upward revisions by 8.6 percentage points, the widest margin in six years, according to data compiled by Bespoke. Consumer companies and drugmakers are the most bearish among 10 major industries, with at least 18 percent of each group providing lower guidance, the data show.
Plunging oil and a strengthening dollar are wreaking havoc on earnings this month as Procter & Gamble Co. to Caterpillar Inc. and Pfizer Inc. joined an increased number for companies to announce disappointing forecasts. While the reduction in projections sets a lower bar for companies to exceed, the dismal outlook undermines the bull market where five years of profit expansions have helped the Standard & Poor's 500 Index triple.
"It looks like either companies were caught way off guard or they are throwing in the towel on 2015," Bespoke, based in Harrison, New York, wrote in a note to clients today. "Looking on the bright side, though, this gives the market a big opportunity to surprise on the upside."
Worst Return
The S&P 500 has fallen 1.6 percent since Alcoa Inc. started this earnings season on Jan. 12, the worst return for the first 18 days of any reporting periods in a year. The benchmark gauge for American equity has lost 3.1 percent in January, poised for the worst month in a year.
Caterpillar had the biggest plunge in more than three years on Tuesday after forecasting 2015 results that trailed estimates as plunging oil prices signal lower demand from energy companies.
P&G, the world's biggest consumer-products maker, this week reported quarterly profit that missed analysts' estimates after what CEO A.G. Lafley called "unprecedented" foreign-exchange rate fluctuations reduced sales by 5 percent. DuPont Co. and drugmakers Pfizer and Bristol-Myers Squibb Co. all posted annual forecasts that trailed predictions, in part because of the dollar.
Corporate profits had been a boost to equities, with the S&P 500 gaining an average 1.9 percent over the first 18 days of all earnings seasons since the bull market began in March 2009, data compiled by Bloomberg show.
Analyst Estimates
Analysts now expect per-share earnings from S&P 500 companies to decline 2.1 percent in the first quarter and fall 1.1 percent over the following period, estimates compiled by Bloomberg show. Should the forecasts come true, it would be the first back-to-back profit contractions since 2009.
At the end of 2014, analysts projected growth of at least 3.3 percent for each of the two quarters.
"While the dollar has been getting all the headlines, the real 'game changer' for EPS expectations has been oil prices," Gina Martin Adams, senior strategist at Wells Fargo & Co., wrote in a note today. She estimates energy has accounted for 75 percent of the downward revision to the S&P 500's earnings expectations so far this year. "When the bar is low, it is most easily beaten, and in our view the bar is now very low."
Before it's here, it's on the Bloomberg Terminal.
LEARN MORE