'Bomb Train' Suits Seen Slowing U.S. Oil Independence
Karen Gullo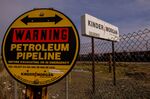 Rail yard projects vital to the flow of crude from the shale oil boom are being waylaid by legal challenges that may slow the march to U.S. energy independence.
Crude-oil handling facilities along rail lines in cities from Albany, New York, to Richmond, California, are mired in lawsuits by community and environmental groups claiming they were kept in the dark about the projects. They accuse local regulators of giving cursory review and rubber-stamping operating permits for proposals that pose threats to their safety and the environment.
In Albany, pollution regulators who examine such projects for dirty-air potential are grappling with 19,000 comments from residents more worried about exploding trains.
Citizen complaints about the move to rail as a new means of transporting oil initially focused on safety conditions of tanker cars en route from shipping point to destination, as pipeline capacity failed to keep pace with crude production in shale formations from North Dakota to Texas.
This was a response to accidents, such as the fiery 2013 crash in Quebec that killed 47 people. Now the focus of protests has shifted to the dangers such "bomb trains" present when they are loading or unloading at terminals.
Aside from the local impact such litigation may produce, the lawsuits, if successful, threaten construction of a cross-country network of terminals for offloading and storing crude, said David Hackett, president of energy consulting company Stillwater Associates. The shale boom has helped turn the U.S. into the world's largest fuel exporter.
'More Expensive'
"It's slowing them down and making them more expensive," said Hackett, who specializes in transportation fuels. "It might get to a point where the developers might be throwing in the towel."
The Albany project, involving a proposal to install boilers to heat tank cars, is targeted in a state-court lawsuit claiming the public wasn't told about about the steady expansion of Global Partners LP's crude-loading terminal. Opponents seek a full environmental review, which could take months. While they study the effects on health and safety, Albany County officials have declared a moratorium on the boiler project, which would be located next to a low-income housing complex.
Near Sacramento, California, following a lawsuit by the environmental group Earthjustice, local regulators halted crude-oil unloading in October at a former U.S. Air Force base, saying they had mistakenly granted Interstate Oil Co. a permit in March to move more than 476,000 barrels of crude each quarter.
Public Notice
Earthjustice lost a separate case against local regulators who approved Kinder Morgan Inc.'s proposal -- without public notice -- to unload crude at a former ethanol transloading rail yard in Richmond, California. A state court judge dismissed the lawsuit, saying it was filed too late. Residents have said they missed the deadline to sue because they were never told about the switch to crude and are appealing.
Regulators and operators of crude-rail terminals are facing demands for public hearings and lawsuits similar to the Richmond case in Baltimore; Grays Harbor and Anacortes in Washington; Clatskanie, Oregon; and Bakersfield and Taft, California.
The Taft terminal, which is located outside Bakersfield and is the state's largest, is the subject of a lawsuit filed Thursday by residents who say the project hasn't received proper environmental review. Regulators approved plans for a terminal set up to receive two 100-car crude trains a day without notifying the public, according to the state-court complaint, which seeks an order shutting the facility until an environmental review is conducted.
Bakken Region
The federal government says crude from North Dakota's Bakken region may be particularly flammable because of its chemical makeup and therefore more dangerous to ship by rail than oil from other sources. The U.S. Transportation Department last year proposed safety measures for trains carrying crude oil and in May ordered railroads to give state emergency officials information about the location of trains hauling more than 1 million gallons of Bakken crude.
Freight yard operations, including tank car unloading, are regulated by the Federal Railroad Administration and U.S. rules for safe handling of hazardous materials, said Gordon Delcambre, a spokesman for the Transportation Department. The safety requirements in place under those regulations don't change when crude is being handled, he said in a phone interview.
Freight Yards
All elements of the proposed rules for crude-oil safety will apply to freight yards and communities will be protected from incidents by stronger protocols for securing unattended freight trains, he said.
"Safety is our first priority and the Department of Transportation continues to pursue a comprehensive, all-of-the-above approach in minimizing risk and ensuring the safe transport of crude oil," Delcambre said.
The railroad industry has taken the offensive against California efforts to impose safety measures on the trains. BNSF Railway Co., owned by Warren Buffett's Berkshire Hathaway Inc., Union Pacific Corp. and the Association of American Railroads asked a federal judge in Sacramento to block a state law requiring railroads transporting the fuel to have spill prevention and response plans.
They contend only the federal government can regulate rail transportation of crude, through statutes that include elaborate safety standards.
Regional Regulators
At the terminals where crude is stored, heated and moved onto trucks or barges, state and regional environmental regulators -- not the federal government -- are typically in charge of permits. That has made them the target of lawsuits as the only agencies reviewing the facilities.
In New York, as in California, the agencies that handle the permitting at terminals are primarily concerned with air pollution, such as vapors that may escape when oil is being transfered from tank cars to trucks.
If emissions from the proposed operations don't significantly increase pollution, regulators say they can grant permits without requiring a full environmental review.
It was on this basis that New York Department of Environmental Conservation approved the Global project in 2012 to quadruple -– to 42.9 million barrels a year from 10.7 million barrels -- the crude unloaded and stored at the Albany port yard.
Tar Sands
A subsequent Global application in 2013 to install boilers to heat crude, potentially including bitumen from tar sands, also lacked a plan for community involvement, according to a lawsuit filed against the agency by residents and environmental groups. They contended a public participation plan is required for projects that may affect neighborhoods where minorities or low-income people live.
After the groups protested, the agency held a community meeting and extended the public comment period for the project at least five times. The department has asked a state judge to dismiss the lawsuit, saying it's premature until a decision is issued on the June 2013 permit application.
The conservation department said on its website in March 2014 that its role is limited to regulating pollution and that safety plans for facilities like Global's are the responsibility of federal agencies, including the U.S. Environment Protection Agency and the Coast Guard.
Albany County
Albany County Executive Daniel McCoy, who signed an order placing a moratorium on the project pending a safety review, said county officials and the public weren't told about the boiler project. Once the plans emerged, the county took matters into its own hands to initiate a health and safety review, he said.
"Everyone said it's all regulated by the DOT and the federal government," McCoy said in a phone interview. "I was a firefighter for 20 years, and it gave me a different approach. Let's look at it as a health hazard."
Global told the conservation department it's conducted public outreach, including developing a website for the project and holding public and private meetings with environmental groups and city officials. The company said there's no legal basis for the state to undo its finding that the boiler project won't have significant environmental effects.
Scott Solomon, a spokesman for Waltham, Massachusetts-based Global, didn't respond to phone and e-mail messages seeking comment on the Albany port project.
'Global's Outreach'
The conservation department "continues to engage in efforts to expand Global's outreach to the community, which will include a public participation plan," Thomas Mailey, an agency spokesman, said in an e-mail.
Residents of Richmond, a city of 100,000 people 12 miles (19.3 kilometers)across the bay from San Francisco, say they learned from a local television report that 100-car, crude-toting trains were being unloaded at a local rail yard. Regional regulators approved the shipments without public notice four days after the Quebec disaster.
The transfer of thousands of barrels of crude didn't increase air pollution so public notice wasn't needed, regulators said, noting they only have authority to review emissions from the facility. The town's fire marshal said he wasn't immediately told about the crude shipments either.
"I had noticed there was a significant increase in tank cars," said Richmond resident Andrew Butt, an architect with children attending a school located a few blocks from the train tracks who is also the son of the city's new mayor, Tom Butt. "But by and large most people were completely in the dark."
Two Permits
The Bay Area Air Quality Management District, which handles thousands of permits a year for everything from dry cleaners, auto body shops and gas stations to refineries and power plants, gave approval to two permits, one each in 2013 and 2014, for Kinder Morgan. That allowed the fourth-largest U.S. energy company to unload crude at a former ethanol transloading rail yard in Richmond, home to Chevron Corp.'s oil refinery, the third largest in the state.
Kinder Morgan holds the permit on the 10-acre rail yard and loads crude onto trucks bound for Tesoro Corp.'s Martinez refinery 20 miles further up the bay.
Earthjustice and other groups sued the air district in March, alleging that while regulators' initial evaluation of Kinder Morgan's 2013 permit called for stringent monitoring of the facility, agency engineers twice re-evaluated it, modified its conditions and changed oversight requirements after the company sought revisions. That should have triggered an environmental review and public notice, the groups said in the state-court complaint in San Francisco.
'Pattern of Collusion'
"What we see in California is a pattern of collusion between the air districts and the industry to rush through these crude-by-rail projects without any public notice or environmental review," said Stacey Geis, a former federal prosecutor who is managing attorney for Earthjustice in San Francisco. "It is disturbing to see the agencies tasked to ensure the health and safety or our communities are instead conspiring with this industry to bring these dangerous bomb trains to our neighborhoods without the public ever knowing."
Earthjustice has appealed the judge's ruling dismissing its challenge to the Richmond project. Richard Wheatley, a spokesman for Houston-based Kinder Morgan, declined to comment, citing the pending litigation.
Ralph Borrmann, a spokesman for the air district, said the agency isn't required to tell fire officials and other first responders about such permits.
"It puts us on the hot seat," Sandy Crockett, an attorney for the air district, said in a phone interview. "We share the concerns about railroad safety, but we are an air quality agency, with expertise in air quality and air pollution, not rail safety."
California Senator
California state Senator Jerry Hill, a Democrat from the San Francisco suburb of San Mateo, said the state should have more authority to play a bigger role in overseeing railroad safety and ensuring that communities and emergency first responders are notified about trains carrying crude.
"Everyone is finding out after the fact," Hill said in a phone interview. "We are playing catch up in terms of our preparation. It's not acceptable."
The Albany case is Benton v. New York State Department of Environmental Conservation, 3010-14, Supreme Court of New York, County of Albany.
The Richmond case is Communities for a Better Environment v. Bay Area Air Quality Management District, CPF14513557, Superior Court of California, County of San Francisco.
Before it's here, it's on the Bloomberg Terminal.
LEARN MORE