Why Luxury Brands Love China's Sex and the City
Liza Lin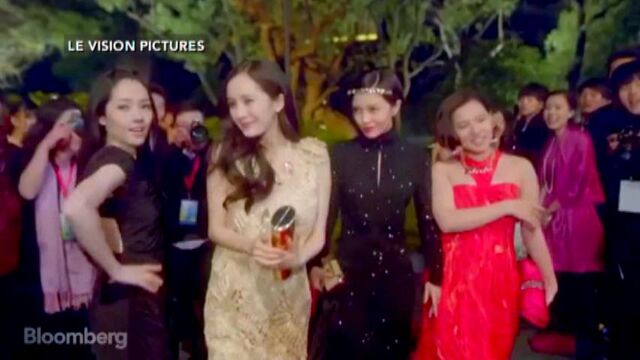 In a scene from the latest installment of the Chinese blockbuster movie series Tiny Times, a glamorously dressed actress pauses while chasing a thief in Rome to do a bit of shopping at luxury house Fendi's flagship store.
Tiny Times  "shot for three days in Palazzo Fendi in Rome, so our stores were featured," says Pietro Beccari, Fendi's chief executive officer. Approaching some of the stars of such productions has become very expensive, he says. "We had the luck to have been chosen for product placement without having to pay for it."
Other luxury brands, including Michael Kors and L'Oréal's Lancome, are also looking to profit on the buzz generated by the critically panned but wildly popular Tiny Times series of books and films, which follows four women from Shanghai as they live opulent lives dressed in fur coats, sipping Champagne, and surrounded by male models. (Think Sex and the City, with less sex but more shoes.)

The Tiny Times cast—uniformly beautiful and in their 20s—appeals to young Chinese. Such consumers are becoming a prime target of brands selling a luxurious lifestyle now that the government's antigraft campaign has crimped gift-giving between business executives and officials. Luxury sales in China fell about 1 percent in 2014, to 115 billion yuan ($18.5 billion), according to Bain & Co. Some companies such as Fendi are able to use entertainment to put their brands in the sights of younger Chinese at little cost; others increasingly are willing to pay up for such placement.
A fourth Tiny Times film is in the works, and pricey brands are sure to play a part. Soon there'll even be a video game, produced by Beijing-based NetEase. Players can choose one of four starlets as their virtual character, pick outfits, and plan social events to kick off their celebrity careers. NetEase is in talks with "several brands," including Michael Kors and Lancome, on product collaborations, says vice president Ethan Wang.

"The younger generation of Chinese consumers born after the 1990s have immense spending potential and are more willing to try new brands," Wang wrote in an e-mail. "Tiny Times has amassed a huge fan following among teens in China, and this gives brands maximum exposure to the group."
Both Fendi and Michael Kors say they didn't pay for their placement in Tiny Times 3, and instead loaned the film clothing. But Janie Ma, director of entertainment marketing for Ogilvy & Mather in Beijing, says other companies can spend from 500,000 yuan to 5 million yuan for a movie or TV tie-in, depending on how extensive a brand placement or promotion is. Ma says producers routinely develop brand cooperation plans when they start productions, then pitch companies to come aboard; auto and Internet companies are the most active collaborators. "Brands are positive about cooperating with Chinese films and TV programs," says Ma.
 The Tiny Times series, directed by Guo Jingming and based on his best-selling novels, has grossed more than 1.3 billion yuan since the first installment opened in 2013, a record box office for a Chinese-made film series. The films have divided social opinions in China, with some critics slamming their glorification of materialism, seen to be at odds with President Xi Jinping's austerity drive to counter corruption. Tiny Times' embrace of consumerism "belittles one's times" and "narrows one's vision," the People's Daily, the Chinese Communist Party newspaper, said in a commentary after the first film's release in 2013.
Yet younger Chinese are drawn to the series exactly because of the leading ladies' designer dresses and lavish lifestyles, with the movie representing the aspirations of teenagers, says Jasmine Sun, an analyst at Shanghai-based consultants SmithStreet. "The emergence of Tiny Times is a symbol of the spending power of the new generation," says Sun. "One which is superficial, materialist, creative, with less burdens and limitations. They dare to dream and have more faith in dreams."
In the third film, which hit theaters last July, the four women move into a new Shanghai mansion with tony wardrobes filled with trendy coats, dresses, and pairs of stilettos. Taking a trip to Rome, they don coats and bags from Fendi, the luxury label owned by LVMH Moët Hennessy Louis Vuitton. Kering's Bottega Veneta line loaned a one-of-a-kind red gown worn by one of the actresses in the film, while Michael Kors showcased its 2014 fashion collection by dressing one of the stars for the movie's promotional posters.

Product placement in China "is something you can't do without if you want to market to consumers, regardless of if they are born in the '80s or '90s, or even after 2000," says Tony Feng, the vice president in charge of branding at Vipshop Holdings, an online fashion retailer in China that sells everything from Estée Lauder beauty creams to Gucci sunglasses. "Traditional advertising isn't as effective anymore."
The Guangzhou-based retailer negotiates to get mentions of its shopping platform and shopping app for smartphones onto Chinese and Korean soap operas and online dramas. "It's a very natural product placement," Feng says. "If a bunch of close girlfriends get together, they shop on their mobiles."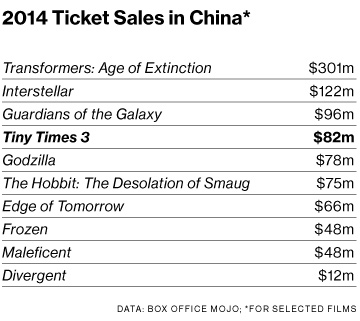 JD.com, China's No. 2 e-commerce retailer, behind Alibaba, also teamed up with Tiny Times. "Brand placement is a great way for us to reinforce our reputation for authentic products with Chinese consumers," says Josh Gartner, a spokesman for JD. He wouldn't comment on payment for the pitch.
Companies such as Amorepacific, a Korean cosmetics maker whose products include a $525, 1-ounce vial of skin renewal serum, also use popular Korean soap operas to market to Chinese. Amorepacific last year ran ads in China featuring an actress from the South Korean soap opera My Love from the Star, an Asia-wide hit that's received more than 2.7 billion views on Chinese video website iqiyi.com. The Chinese market may grow to 30 percent of Amorepacific's total sales by 2020, from 11 percent in 2013, Kim Seung Hwan, chief strategy officer, said last year.
Michael Hu, a 19-year-old college student in Shanghai who's seen all three Tiny Times movies, says sponsoring items in a film is a good way to advertise and raise awareness. "The movie is somewhat detached from our current lives now, and we can't afford a lot of those luxuries," Hu says. "But some of the brands we may buy as we get older." Marketers hope he's right.
—With Andrew Roberts
The bottom line: The Tiny Times movies have pulled in $208 million at the box office, making them attractive for promoting brands.
Before it's here, it's on the Bloomberg Terminal.
LEARN MORE