Watch McCain Slam 'Low-Life Scum'
The Arizona senator lashes out at Code Pink.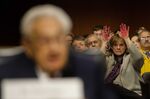 Clearly, Senator John McCain has had enough of Code Pink. The anti-war protesters on Thursday descended upon a foreign policy hearing featuring three former secretaries of state to chant directly at one of them: "Arrest Henry Kissinger for war crimes!"