Watch McCain Slam 'Low-Life Scum'
The Arizona senator lashes out at Code Pink.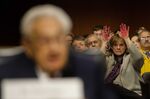 Clearly, Senator John McCain has had enough of Code Pink. The anti-war protesters on Thursday descended upon a foreign policy hearing featuring three former secretaries of state to chant directly at one of them: "Arrest Henry Kissinger for war crimes!" 
McCain, an Arizona Republican, responded with rare ferocity. "You're going to have to shut up, or I'm going to have you arrested," he said. "Get out of here, you low-life scum."
Watch it here:
Afterwards, he offered his regrets. "I've been a member of this committee for many years, and I have never seen anything as disgraceful and outrageous and despicable as the last demonstration that just took place."
Here are some images of what took place: