Tim Hortons Cuts 350 Positions Following Takeover by Burger King
Craig Giammona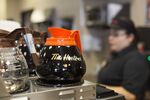 Tim Hortons Inc., the biggest seller of coffee and doughnuts in Canada, is cutting about 15 percent of its workforce following a takeover by Burger King Worldwide Inc.
The company has eliminated 350 positions as part of a streamlining effort that is now complete, said Alexandra Cygal, a spokeswoman for the company. The cuts affected a workforce of about 2,300 at headquarters and other facilities.
The move comes less than two months after the company's shareholders approved the approximately $11 billion deal, which created the world's third-largest fast-food company.
Burger King's acquisition, which was financed in part by $3 billion from Warren Buffett's Berkshire Hathaway Inc., created a new company called Restaurant Brands International that is based in Oakville, Ontario. Tim Hortons said earlier this week that it had begun cutting jobs, without specifying a number.
The number of jobs lost was previously reported by the Canadian Press.
Before it's here, it's on the Bloomberg Terminal.
LEARN MORE