Thompson's Retirement at McDonald's Erodes U.S. Black CEO Ranks
Jeff Green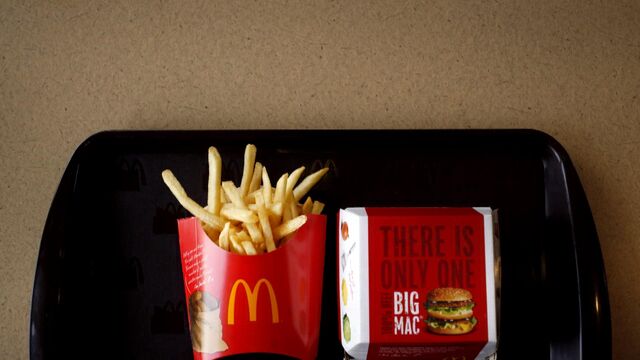 McDonald's Corp.'s decision to replace Chief Executive Officer Don Thompson with one of his top lieutenants will further deplete the already dwindling ranks of black executives running the biggest U.S. companies.
Outside of the world's largest fast-food restaurant chain, only American Express Co., Delphi Automotive Plc, Merck & Co., Carnival Corp. and Xerox Corp. were headed by black leaders last year among the largest 200 companies in the Standard & Poor's 500 Index, according to executive recruiter Spencer Stuart.
"Companies over time had made great strides in diversity in the C-suite and the boardroom, and now it seems to be rolling back and it may be a while before it can move forward again," said Sarah Stewart, an executive recruiter with Boyden in Pittsburgh. "Now the pool of candidates is not very large for people coming up behind these CEOs."
Thompson's departure marks a setback in the push to make executive suites better reflect America. Women, who make up more than half of the U.S. population, represent 5 percent of S&P 500 CEOs and 19 percent of directors. Also, racial divisions across the U.S. were laid bare last year after a police shooting of a black teenager in Missouri and a choking of a black man in New York City.
Oak Brook, Illinois-based McDonald's still has two black directors, Walter Massey and John Rogers Jr., after the departure of Thompson.
"We are known as a leader in corporate diversity from the boardroom to every level of employment," Becca Hary, a McDonald's spokeswoman, said in an e-mail.
Relying on Friends
The erosion across U.S. companies is more the result of directors relying on their own networks of friends than any conscious effort to relax a push for diversity, Stewart said. Companies and their boards need to redouble efforts to develop minority candidates to ensure there's a new cadre to replace departing leaders, she said.
The percentage of black directors in the S&P 500 fell to 8.5 percent in 2014 from 8.9 percent in the previous year, while 73 percent of boards have at least one black director, down from 79 percent in 2009, Spencer Stuart said. In 2013, about 13.2 percent of the 316 million people in the U.S. were black, according to U.S. Census estimates.
Even as Marvin Ellison, a longtime Home Depot Inc. executive, takes the helm at J.C. Penney later this year, others are leaving. Delphi CEO Rodney O'Neal will retire March 1. Clarence Otis Jr. stepped down in October as CEO of Darden Restaurants Inc.
Buying Power
With black consumers responsible for about $1.3 trillion in spending in the economy, more progress needs to be made in the corporate suite and the boardroom, Ron Parker, president and CEO of the Executive Leadership Council, said in an interview late last year after Ellison was hired at J.C. Penney. The council advocates for more black executives in leadership positions.
"With our buying power, with our influence across all social dynamics -- whether it's music, sports, the use of technology -- for us to have only 8 percent of our publicly traded company boards represented by black directors, it's not enough," Parker said in an interview. "It has to become institutional in corporate culture, and it has to start with convincing CEOs and boards to give more opportunities."
Before it's here, it's on the Bloomberg Terminal.
LEARN MORE