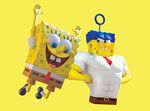 Not long ago, Clint and Wiley Hensley, twin 8-year-old brothers in Silver Spring, Md., made an important discovery. They realized they could use their family's Roku streaming player to watch SpongeBob SquarePants—Nickelodeon's hit animated TV series about a goofy sponge and his neurotic underwater friends—over the Internet through Amazon Prime Instant Video. Soon the twins were cycling through episodes until they'd lost count. Clint found Patrick, the dopey starfish, particularly hilarious. Wiley favored Mr. Krabs, the money-grubbing crustacean. By the time school started last fall, the brothers were deep under SpongeBob's spell. "The characters sometimes make mistakes that are funny," Clint says. "They do weird stuff," Wiley adds.
SpongeBob SquarePants began airing on Viacom's Nickelodeon in 1999, seven years before the Hensley twins were born. Since then, significant changes—the advent of Netflix, the rise of YouTube, the proliferation of DVRs, smartphones, tablets, etc.—have upended the home-entertainment market. Two years ago, media observers predicted that these myriad shifts would kill the sponge along with other stars from the days of linear children's television. (When ratings dipped slightly in 2012, the Wall Street Journal called it "Viacom's SpongeBob Crisis.") Yet SpongeBob has thrived. "It's still, hands down, the most watched animated show on television," says Cyma Zarghami, the president of Nickelodeon Networks Group. "Now it's also viewed on every screen, everywhere around the world."
On Feb. 6, Viacom will release The SpongeBob Movie: Sponge Out of Water in theaters nationwide. The film tells the story of a conniving pirate, played by Antonio Banderas, whose theft of a beloved recipe wreaks havoc in SpongeBob's world. To save their undersea community, SpongeBob and his cohorts have to travel onto—gulp—dry land, where they transform into superheroes, develop muscular bodies, battle with pirates, and meet the guitarist Slash.

Then in the summer of 2015, Nickeloden will begin airing new episodes of SpongeBob on TV. For now, repeats of the show remain some of the most popular telecasts in all of pay TV. On Saturday, Jan. 3, four of the top 35 shows on cable were episodes of SpongeBob, according to Nielsen. Each rerun attracted from 1.8 million to 2 million total viewers.
The rise of on-demand viewing and social media—SpongeBob has 59 million fans on Facebook—has only helped drive the character further into viewers' lives. In the summer of 2013, when Viacom's contract with Netflix expired, Amazon swooped in, signing an exclusive deal to stream Viacom's shows and making Dora the Explorer and SpongeBob cornerstones of its children's programming strategy. Teenagers, who as kids grew up watching SpongeBob on TV, are reconnecting with the series on mobile devices. "For 14-year-olds it's a way to hang on to their childhood," Zarghami says. She also notes that about 25 percent of the show's 100 million total viewers each quarter are adults without children.
Part of the franchise's success has to do with its cross-generational humor. "When you outgrow a show like Barney & Friends, something happens where you go from loving Barney to having Barney drive you absolutely crazy," says Robert Thompson, director of Syracuse University's Bleier Center for Television & Popular Culture. "But with SpongeBob, you watch it when you're 3 and enjoy the goofy slapstick. You watch it when you're 8 and enjoy the narratives. You watch it when you're 21 and start seeing themes from your comparative literature courses."

The 15-year-old character is also benefiting from a phenomenon—described in the 2013 book Blockbusters by media theorist Anita Elberse—in which digital consumers, facing a bewildering number of choices, have reacted by simply watching proven franchises. Compared with niche offerings, SpongeBob feels familiar.
While the larger culture has become more ironic, SpongeBob feels like a throwback to the earnest comedy popularized by Buster Keaton and Charlie Chaplin. The humor arises from watching an indefatigable naif try to maintain his goodwill despite a barrage of indignities from a relentlessly cruel world. "One of the geniuses of SpongeBob is that, while it was designed for preschoolers, it's always thrown out delicious bones to the parents," Thompson says. It'll soon reach the point where parents who grew up watching SpongeBob will be introducing the show to their children. "Once you make that first generational jump, it becomes somewhat self-perpetuating," he says. Only an animated program with a brand-name title character—Bugs Bunny, Mickey Mouse, Rudolf the Red-Nosed Reindeer—can typically pull this off.
The SpongeBob film is the first from Paramount Pictures' dedicated animated division, which the company launched in 2011. Viacom, Paramount's parent company, tapped SpongeBob to kick off the project because of the character's global reach. In the past decade the show has been translated into more than 50 languages, according to Nickelodeon. It's aired in more than 185 countries, attracting far-flung fans in key movie markets such as Japan, Russia, Brazil, and Germany.
The film, which marks the character's first foray into theaters since the original SpongeBob SquarePants Movie racked up $140 million in ticket sales in 2004, mixes animation with live-action sequences. Viacom executives are likely hoping to ape the success of 2014's breakout hit, The Lego Movie. It also premiered in February, mixed animation with live action, and capitalized on a brand with tons of international fans.

As with The Lego Movie, which went on to gross $468 million worldwide, according to Box Office Mojo, the SpongeBob film is designed not just to entertain, but also to trigger a cavalcade of toy and apparel sales. The coming onslaught includes SpongeBob comforters ($29.88), junior novels ($5.99), watches ($9.99), post-apocalypse figure packs ($19.99), cuddle pillows ($15.96), Mega Bloks "photo booth time machines" ($9.99), beach towels ($10.97), tumblers ($19.99), calendars ($14.99), fruit-scented pencils ($7.99)—and pretty much any other SpongeBob doodad you could imagine a hyper child badgering her caretaker into buying. "It will be a good way to refresh and boost the SpongeBob consumer-products business," Viacom Chief Executive Officer Philippe Dauman explained at a recent media conference.
Over the years, SpongeBob has also proven to be catnip to third-party marketers. According to Nickelodeon's Zarghami, the sponge currently has more than 1,000 partners around the globe, who have licensed his plucky aura to sell everything from Band-Aids (Johnson & Johnson) to toys (Fisher-Price) to toothpaste (Colgate) to snowboards (Comune) to golf apparel (Loudmouth Golf) to minivans (Toyota's Sienna). Not including advertising and box office revenue, endorsement deals have generated about $12 billion in sales, she says. "It's hard to personify humor into toys," says Steve LaBella, an executive in Fisher-Price's Imaginext division.
Most of these items are aimed at young adults. "It's probably not baby boomers who are going to buy SpongeBob golf gear," says Megan Hartman, a strategy director for the branding agency Red Peak Youth. "Millennials are very attracted to nostalgic brands. It's why you saw Vanilla Ice in a [Kraft] macaroni and cheese ad." Many of the companies appreciate that SpongeBob's aquatically heterogeneous world isn't limited to one race or ethnic group. "SpongeBob has a very diverse fan base," adds Jack Hollis, a Toyota marketing executive. "That's yet another reason for us to do business together."
Somewhat improbably, given the show's mass appeal, the character has recently become trendy among luxury brands. Later this year, the London-based designer Beatrix Ong, formerly the creative director for Jimmy Choo Couture, will roll out a SpongeBob-inflected line, including wallets and bikinis. Ong points out that Marc Jacobs—who has the character tattooed on his right biceps—and Karl Lagerfeld are likewise big fans. Last year the Italian label Moschino dedicated an entire runway show to SpongeBob, featuring $599 handbags and $962 leggings. "Fashion traditionally has been very serious," Ong says. "There's a trend of cartoons and things that are a little bit lighter coming into luxury."
Still, nothing is more valuable to Nickelodeon than its deep library of 189 back episodes of the show, which kids like the Hensleys don't seem to mind watching over and over again. From 2012 to 2014, according to the financial information firm SNL Kagan, the network's estimated advertising dollars grew from $930 million to $1 billion; overall operating revenue increased from $1.9 billion to $2.2 billion. And so the network will keep cranking out SpongeBob episodes for the foreseeable future. "The consumers will tell us when they've had enough," Zarghami says. "So far, they haven't."
Before it's here, it's on the Bloomberg Terminal.
LEARN MORE