South Korea Stares Into the Deflationary Abyss
By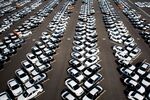 As Japanese exporters enjoy an earnings boost from the weakened yen, their rivals in South Korea are struggling with a stronger won. Hyundai Motor's net income fell 14 percent in 2014, the biggest decline since 2008. The automaker's subsidiary, Kia Motors, suffered a 22 percent drop in profits, with earnings in the fourth quarter collapsing 54 percent. The picture isn't bright for Korean retailers, either. Consumers are spending less at department stores Lotte Shopping and Shinsegae.
The bad results are adding to worries that the South Korean economy may soon stumble into a Japan-style deflationary trap. Consumer prices rose just 0.8 percent in December compared with a year earlier, and Samsung Securities expects prices in 2015 to rise less than 1 percent. From last October to December, the economy grew 0.4 percent over the previous quarter, and domestic demand contracted 0.6 percent. "Korea's economic momentum faded quickly at the end of last year," Mark Walton, a senior economist with BNP Paribas, wrote in a Jan. 27 report. "The breadth of the slowdown hints at a deep-seated malaise."
Koreans can thank Japanese Prime Minister Shinzo Abe for their country's funk. Because of Abenomics, the yen has declined by about 50 percent against the dollar since late 2012. While Abe's policies have yet to revive growth in Japan, they have helped the bottom lines of Japanese multinationals like Toyota and Sony, which compete with Korean exporters.

Even as the yen has plummeted against the dollar, the value of the South Korean won against the greenback is about the same as it was in late 2012. The Korean currency is trading around a six-year high against the yen. And since Koreans and Japanese are direct competitors in several industries, the currency swings have hammered Korea's exporters. "To maintain competitiveness, Korean firms have tried to match (and recently even exceeded) price cuts by Japanese exporters," HSBC economists Frederic Neumann and Ronald Man wrote in a report published Jan. 23. "Manufacturers are cutting back on prices to protect sales, and have also started to reduce" capital expenditures. The ingredients needed for a deflationary economy are all there: Once companies start skimping on investments at home, wage growth softens. "This, in turn, provides a drag on consumption," wrote the HSBC economists. "And so the cycle begins."
Korea's consumers are stretched, with household debt at 87 percent of GDP, the highest in Asia. Unfortunately for Koreans looking to policymakers for solutions, the government and the central bank can't agree on the extent of the problem. The Bank of Korea on Jan. 15 lowered its 2015 GDP growth forecast to 3.4 percent, but the next day the nation's vice finance minister insisted the government was sticking with its forecast of 3.8 percent growth. Even the central bank's lower number is too optimistic for some private-sector economists. Samsung Securities expects growth of 3 percent, while BNP Paribas puts it at 2.8 percent.
Only 30 percent of South Koreans approve of the performance of President Park Geun Hye, Gallup Korea announced on Jan. 23. The same day, Park replaced her prime minister with Lee Wan Koo, a leader of the ruling party. "I will devote myself to reviving the economy as prime minister," Lee told reporters. The government already has plans for some stimulus, with a record 375.4 trillion won ($346 billion) budget this year. A chunk of the budget will provide extra funds for education, defense, and higher welfare payments.
The Bank of Korea lowered its benchmark lending rate to 2 percent in October, the fifth cut since July 2012, which put rates back to their level during the financial crisis. The bank needs to cut rates further, says BNP's Walton, citing the disinflationary pressures on Korea. "As the Japanese experience has shown," Walton wrote in his report, "if ignored, this downward spiral in inflation and expectations can easily become intractable."
The bottom line: Korea is having trouble competing with Japan because its currency is so much stronger than the yen.
Before it's here, it's on the Bloomberg Terminal.
LEARN MORE