Skymark Drops on Bankruptcy Filing From Airbus Deal Flop
Kiyotaka Matsuda, Monami Yui and Andrea Rothman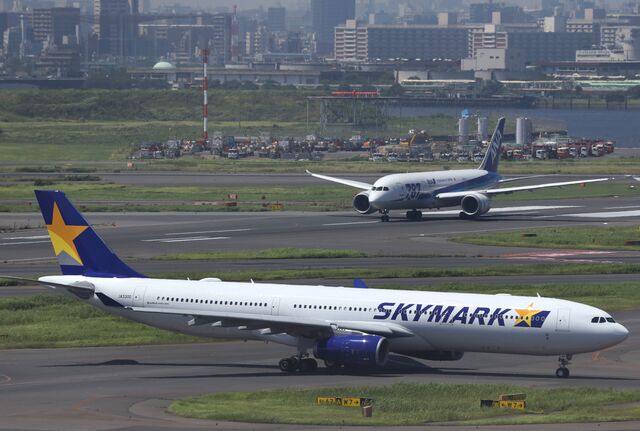 Skymark Airlines Inc., Japan's third-largest carrier, filed for bankruptcy protection after a decision to purchase six Airbus Group NV A380 superjumbos flopped. The stock plunged 25 percent.
The shares tumbled by their daily limit at the very end of the trading session after remaining untraded in Tokyo for much of the day. Sell offers had outnumbered buy bids by about 215 to 1 in the morning and only 55,300 shares changed hands in the end, 95 percent lower than yesterday's volume.
Skymark filed at the Tokyo District Court with 71 billion yen ($603 million) in liabilities, the carrier said in a statement. President Shinichi Nishikubo is standing down and Chief Financial Officer Masakazu Arimori is taking on the role. It will be delisted on March 1, the Tokyo Stock Exchange said.
Skymark, which will get restructuring support from private-equity firm Integral, first flagged in July that there was "material uncertainty" over whether it would remain a going concern following penalty demands for the cancellation of the A380 contracts. Doubts about its ability to fund the planes had led Airbus to scrap the order worth $2.5 billion in list prices. The carrier is seeking tieups with the nation's two largest carriers Japan Airlines Co. and ANA Holdings Inc. to survive.
"I am concerned that customers would walk away," Ryota Himeno, an analyst at Barclays Securities Japan Ltd., said by phone. "How the planned code-share flights with the two majors will fare is key."
Oligopoly Market
An earnings report due today has been postponed to Feb. 5, spokeswoman Yuka Izumaru said by phone. The company will meet with creditors on Feb. 4. The budget airline operates a fleet of 33 leased aircraft, most of them single-aisle planes.
The airline, which has 36 slots at Tokyo's Haneda airport, will keep all its employees in their jobs, Chairman Takashi Ide said in Tokyo today. The carrier had 2,275 employees as of last March.
Skymark struggled to compete in a market dominated by JAL and ANA. The two carriers had international alliances, partners and frequent flier programs to retain customers. Japan Air is a member of Oneworld alliance, which also has British Airways and Qantas Airways Ltd. as members. ANA is part of the Star Alliance, which also includes Singapore Airlines Ltd.
Japan's Transport Ministry "must be considering keeping Skymark so that competition remains in the oligopoly market with two majors," said Hiroshi Hasegawa, an analyst at SMBC Nikko Securities Inc. "I'm paying attention to political actions on that front as well."
Superjumbos
Skymark had announced plans to buy the world's largest passenger model and start an international business-class service in 2010, breaking from a discount model using Boeing Co. 737 narrow-bodies. Nishikubo said at the time he planned to win market share by charging less than half the price of rivals.
The application from Tokyo-based Skymark comes five years after Japan Airlines Corp. became the first major Asia flag-carrier to file for bankruptcy, seeking protection from creditors with 2.32 trillion yen in liabilities. JAL successfully re-listed in 2012.
Airbus said it was aware of the Skymark filing, which was a matter for the courts. After the sides failed to reach a deal on the A380s the planemaker filed a complaint in a London court, the contents of which haven't yet been made public.
Negotiations
Skymark had already paid 26.5 billion yen in pre-delivery charges for the double-deckers, including money to the engine supplier, it said in July. It could face demands for as much as 70 billion yen in penalties, Kyodo News reported at the time, citing people familiar with the situation that it didn't name. Airbus terminated the A380 order and with it lost its sole superjumbo deal in Japan.
"The company is negotiating over a reduction in the payments with Airbus," Skymark said in the statement yesterday. "If the payments for breach of contract do occur, there are concerns that the company's financial base could worsen."
Skymark had a net loss of 5.7 billion yen in the six months through September amid tougher competition, the cost of introducing leased Airbus A330s, and a weaker yen. It had 4.5 billion yen in cash and near-cash items as of Sept. 30, down 75 percent on a year earlier, based on data compiled by Bloomberg.
"A low load factor led to a sustained cash outflow amid an already strained cash position," Masaharu Hirokane, an analyst at Nomura Holdings Inc. in Tokyo said in a note dated yesterday. "Key to improving earnings will be the early return of leased aircraft and other moves to downsize to an operation capable of generating stable profits."
Skymark said in October it planned to halt unprofitable flights from Tokyo Narita airport and return two leased planes from November. The airline said it would also sell and lease back engines, a flight simulator and other assets.
Skymark initially signed a firm contract for four A380s in 2011 and later came back for two more. Airbus said last April that the carrier's first plane had flown and was heading for cabin installation and final painting in Germany.
Before it's here, it's on the Bloomberg Terminal.
LEARN MORE