Commodity Shipping Measure Falls to 28-Year Low on China Demand
Naomi Christie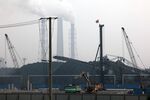 A measure of global shipping costs for commodities fell to a 28-year low as slowing growth in China's demand for cargoes compounds the effect a fleet glut.
The Baltic Dry Index plunged 5.1 percent to 632 points, the lowest since Aug. 22, 1986, according to data from the Baltic Exchange in London on Thursday. Freight rates for all the vessel types within the measure declined.
China, the world's biggest buyer of of coal and iron ore, will increase imports of the two commodities by 6 percent this year, down from a growth rate of 8.7 percent in 2014, according to estimates from Clarkson Plc, the world's largest shipbroker. The nation's economic expansion this year will be the slowest since 1990, the average of 67 economists' forecasts compiled by Bloomberg shows.
"China is slowing down, that's why," Marc Pauchet, an analyst at Braemar ACM, a ship broker in London, said of demand for Capesize ships, the biggest tracked by the Baltic Exchange. "The cargoes are simply not there."
Day rates for Capesizes slid 6.7 percent to $5,972. The biggest drop was for Panamaxes, the largest to navigate the Panama Canal, which fell 11 percent to $4,392, according to the Baltic Exchange's data on Thursday.
Fleet Glut
Total trade in dry-bulk commodities, which also include cargoes such as grains, steel, sugar and scrap metal, will expand about 4 percent to 4.67 billion metric tons this year, about the same as last year's increase, Clarkson data show. The capacity of the fleet of vessels able to haul the commodities will increase 5.1 percent, it anticipates.
"The demand from China is weak," Charles Rupinski, senior analyst at Global Hunter Securities LLC, said by phone from New York on Thursday. "There's been a large number of new build deliveries and people had been expecting a recovery."
For vessels smaller than Capesizes, declining rates were driven by seasonally weaker demand and surplus capacity, Pauchet said.
Owners are contending with a dry-bulk fleet whose capacity expanded about 80 percent since 2008, outstripping about a 40 percent trade expansion over the same period, Clarkson data show.
"The flood of ships on the market at the minute" is causing the decline, Max Benenson, a London-based analyst at Arrow Shipbroking, said by phone. "Post-crash, with a lot of help from private equity and support from the funds, a lot was purchased, a lot was commissioned."
Before it's here, it's on the Bloomberg Terminal.
LEARN MORE