Rice Seen Extending Decline by UN as Thailand Auctions Reserves
Supunnabul Suwannakij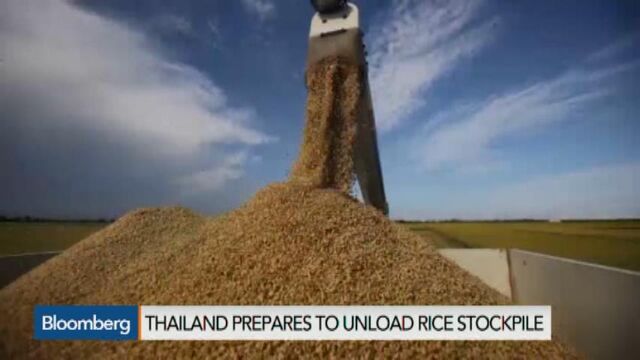 Rice prices will probably extend losses as Thailand, the top exporter, auctions its record reserves, said the United Nations' Food & Agriculture Organization.
Global production and stockpiles will be close to all-time highs in 2014-2015, said David Dawe, a senior FAO economist. Demand growth isn't very strong as China and Nigeria, the biggest importers, have a good level of stockpiles, he said in an interview, without giving any figures.
Prices in Chicago dropped to a four-year low this month after a 23 percent plunge in 2014, helping cut global food costs to the lowest since 2010. Thailand is selling 1 million metric tons on Thursday, about 9 percent of annual exports, in the first of a series of auctions to cut the 17.8 million-ton inventory built up by a government purchase program.
"The sale will definitely depress the market," Dawe said in Bangkok on Thursday. "The world is well supplied."
Futures fell to $10.705 per 100 pounds on the Chicago Board of Trade on Wednesday, the lowest level since August 2010. Thai 5 percent broken rice, an Asian benchmark, tumbled 35 percent to $422 a ton on Wednesday from a three-year high in 2011. Global stockpiles will be 177.4 million tons in 2015, 30 percent above the average in the past decade, FAO data show.
Largest Auction
The Thai government plans to unload 10 million tons this year and a further 7.8 million tons in 2016. One hundred bidders participated in the auction, the biggest single offering since 2004, according to the Department of Foreign Trade. Preliminary results may be released later on Thursday.
"If they put so much on the market and that drives prices down, they will not keep auctioning 1 million tons a month because they'll undercut the value of their own stocks," Dawe said. "Eventually, they'll have to find other outlets such as animal feed and ethanol production to reduce the holdings."
Indonesia and the Philippines are working toward self-sufficiency and have boosted their reserves, which will give them flexibility in planning imports, Dawe said. Only crop damage from bad weather will boost demand, he said.
"It's not just Thailand that has stocks to get rid of," he said. "The world in general has a very high level."
The quality of Thai stockpiles is "a big unknown" which could expose buyers to risks, Dawe said.
Before it's here, it's on the Bloomberg Terminal.
LEARN MORE