Renzi Pushes Through His Candidate Ahead of President Vote
Chiara Vasarri and Lorenzo Totaro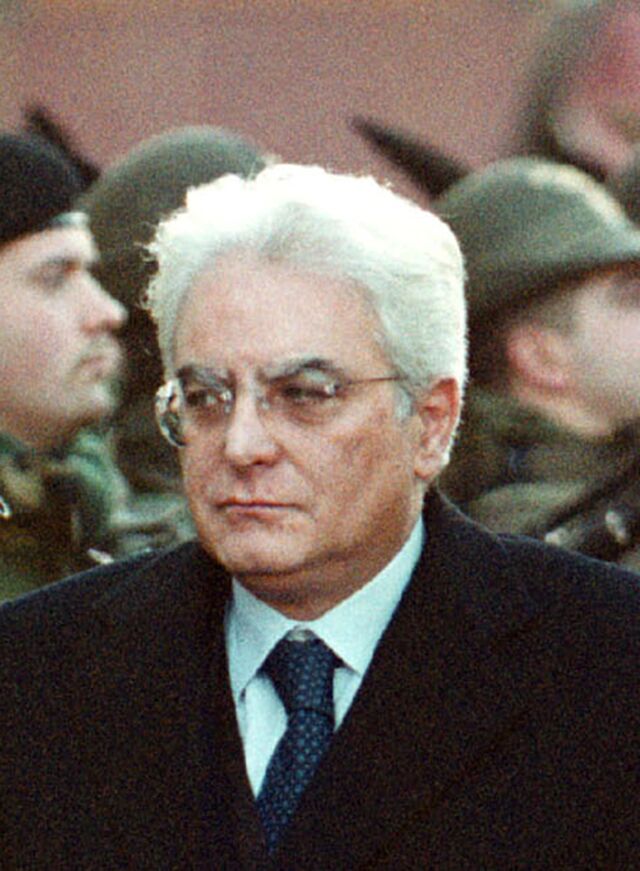 Italian Premier Matteo Renzi rallied his party behind Constitutional Court judge Sergio Mattarella for the country's presidency, brushing off opponents in a surprise move.
Renzi asked electors from his Democratic Party, or PD, to back the candidacy of the 73-year-old former defense minister, telling a meeting in Rome he's the ideal candidate to replace Giorgio Napolitano, 89, as head of state. The electors unanimously backed Mattarella's candidacy.
"Sergio Mattarella is a man of law, of the battle against mafias, of politics with a capital P," 40-year-old Renzi said.
Lawmakers and electors began voting for a new president Thursday afternoon and the election is expected to last for at least four rounds. Former Premier Silvio Berlusconi opposes Mattarella's candidacy, Italian news agency Ansa said, straining the political pact between the two men that has allowed Renzi to push forward with a new election law.
Renzi's choice was praised even by some leaders of minority factions within the PD, including former Deputy Finance Minister Stefano Fassina.
'High Profile'
"He's a high-profile candidate whose experience, caliber and depth nobody can question," Fassina told reporters in Rome after the meeting. He said there was no reason for other parties, including Berlusconi's Forza Italia, not to vote for Mattarella.
Lawmakers and regional delegates have convened in Rome to elect the new head of state, a complex process that could take several days. To win in the first three rounds of the presidential election, a candidate must secure two-thirds of as many as 1,009 potential votes, while from the fourth round, which should take place Saturday, an absolute majority of 505 electors is required.
Renzi, who asked his party to vote for Mattarella from the fourth round, can count on 446 PD votes. Civic Choice, a party within the governing coalition, has already said that it will back Mattarella. The Left, Ecology and Freedom Party, or SEL, which is in the opposition and fields about 34 electors, has also said it will consider his candidacy. Five Star Movement's 139 electors, also in opposition, say they will vote for a different candidate in the first three rounds.
Surprise Move
Renzi's move puts Berlusconi in a difficult position. The two leaders had been trying to find common ground on a non-partisan candidate.
The three-time premier is now considering all options, according to his spokeswoman Deborah Bergamini.
Renzi told his party in Rome Thursday to avoid a repeat of the previous presidential vote in April 2013. At the time his party failed to elect its candidate for president, former premier Romano Prodi, amid the defection of about 100 lawmakers.
"A compact vote from the Democratic party would be very useful for Renzi's leadership," said Silvio Peruzzo, senior European economist at Nomura International Plc in London. For Forza Italia "it would be ideal to join the vote with the PD not to give the impression to be left out of the decision-making process."
Largely Ceremonial
The presidency of the Italian Republic is largely a ceremonial role, though the head of state in the Quirinale Palace in Rome is the guarantor of the country's constitution, oversees the armed forces and becomes the key arbiter during political crises.
Napolitano, for example, dealt with four government changes and two general elections during his unprecedented nine years in office. Renzi praised him as a stout defender of the European Union who confronted difficulties with "intelligence and wisdom."
Mattarella, born in the Sicilian capital of Palermo, began his career in national politics in 1983 when he was elected to the national Parliament as a member of the now-defunct Christian Democrats, Italy's ruling party after World War II.
He is the younger brother of Piersanti Mattarella, a Sicilian regional government president also from Christian Democrats, who was assassinated by the Mafia in Palermo in 1980.
Before it's here, it's on the Bloomberg Terminal.
LEARN MORE