Renzi Corners Berlusconi as Italy President Vote Drags On
Chiara Vasarri and Lorenzo Totaro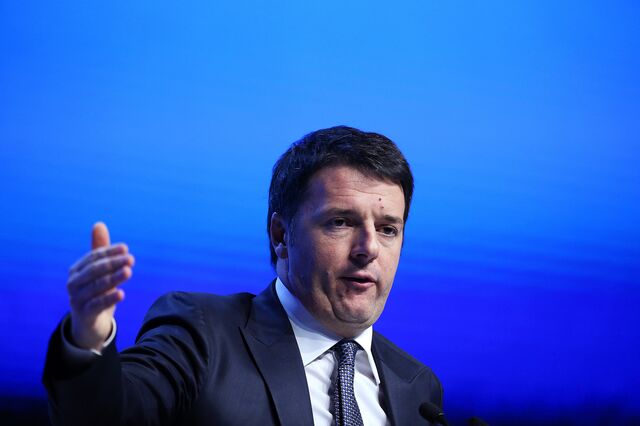 Lawmakers have convened in Rome for the second day to choose a new Italian president as Premier Matteo Renzi's surprise decision to propose a senior judge for the head of state tests a year-old alliance with three-time premier Silvio Berlusconi.
Renzi succeeded in unifying his Democratic Party behind 73-year-old Constitutional Court judge Sergio Mattarella, a choice that didn't win the endorsement of Berlusconi's Forza Italia party. The third vote by 1,009 presidential electors is scheduled for 3 p.m. local time. Most lawmakers cast blank ballots in the first two rounds Thursday and Friday morning amid the political maneuvering.
Berlusconi accused Renzi of calling their alliance into question, news agency Ansa reported Thursday, citing his remarks at a party meeting in Rome. The 78-year-old billionaire, who for days has been trying to find common ground with the ex-Florence mayor on a non-partisan candidate, asked his 142 electors to cast blank ballots even in the fourth round on Saturday, when the required majority to elect a president will drop to 505 from the current two-thirds, according to an e-mailed statement.
'Strong Incentives'
Last year the two leaders signed an unprecedented pact on constitutional reforms, dubbed the "Nazareno Pact" after the name of the PD headquarters where the meeting took place. Forza Italia's support was crucial again this month in a closely-watched vote on changes to Italy's election law.
"An election of Mattarella won't mean that the two leaders break their relationship as both have very strong incentives to stick together," said Roberto D'Alimonte, a political science professor at Rome's Luiss University. "Berlusconi cannot afford to have a hostile government and Renzi needs Berlusconi for reforms to offset the dissent and defectors within his own ranks."
The presidential election can take several days as just two rounds of voting are normally held each day.
Renzi can count on 446 PD votes. Civic Choice, GAL and other junior parties have already said they will back Mattarella, bringing approximately an additional 60 votes to Renzi. The Left, Ecology and Freedom Party, or SEL, which is in the opposition and fields about 34 electors, has also said it will consider his candidacy. That would be enough to elect a president from the fourth round, although defections within the PD cannot be ruled out.
Secret Threat
While some dissidents within the party who have previously criticized Renzi's policies, including former Deputy Finance Minister Stefano Fassina, have publicly praised his choice, the secret ballot poses a threat for the premier.
In April 2013, the PD party failed to elect its candidate for president, former premier Romano Prodi, amid the defection of about 100 lawmakers. That forced Pier Luigi Bersani to resign as party head.
Beppe Grillo's Five Star Movement, which opposes Renzi and has 129 electors, voted for a different candidate in the first two ballots this time.
"If voting lasts beyond Sunday and or Renzi is forced to fall back on an alternative candidate, it would signal his grip on parliament is slipping," Federico Santi, an analyst with Eurasia Group in London, said in a note to clients Thursday.
Mafia Killing
The presidency of the Italian Republic is largely a ceremonial role, though the head of state in the Quirinale Palace in Rome is the guarantor of the country's constitution, oversees the armed forces and becomes the key arbiter during political crises.
Napolitano, for example, dealt with four government changes and two general elections during his unprecedented nine years in office. Renzi praised him as a stout defender of the European Union who confronted difficulties with "intelligence and wisdom."
Mattarella, born in the Sicilian capital of Palermo, began his career in national politics in 1983 when he was elected to the national Parliament as a member of the now-defunct Christian Democrats, Italy's ruling party after World War II.
He is the younger brother of Piersanti Mattarella, a Sicilian regional government president also from Christian Democrats, who was assassinated by the Mafia in Palermo in 1980.
Before it's here, it's on the Bloomberg Terminal.
LEARN MORE