Private Oil Firms Pay Price for State Giant Probes: China Credit
Christopher Langner, Lianting Tu and David Yong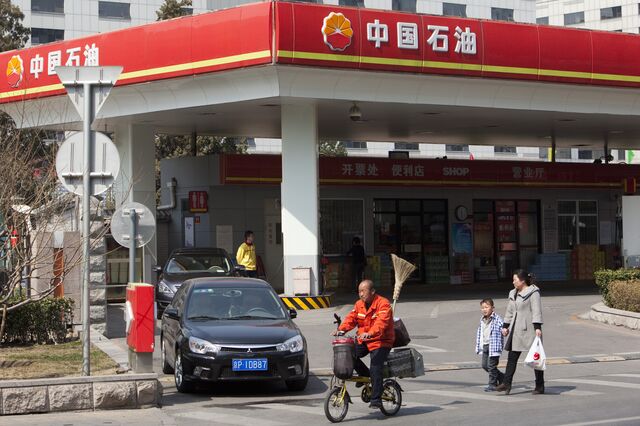 China's private oil service companies are paying the price in the bond market for graft probes involving state energy giants.
The yield on the 2018 dollar-denominated bonds of Anton Oilfield Services Group Ltd., which helps drill oil wells, has almost doubled to 25 percent this year. The yield on the 2019 notes of Honghua Group Ltd., the world's largest land rig maker, jumped to a record 34.3 percent this month. That contrasts with the 44 basis point decline to 3.39 percent for the 2024 securities of state-owned Cnooc Ltd., China's biggest offshore oil and gas producer.
President Xi Jinping's campaign to catch "tigers and flies" for graft had its highest-profile case with the arrest of former security chief Zhou Yongkang and probes into a network of associates that he built up during his time as chairman of China National Petroleum Corp. The fallout from the probe, and similar cases involving property developers and securities brokerages, is affecting companies without powerful state benefactors as projects are frozen, contract awards scrutinized and investors ask who will be targeted next.
"We are seeing Chinese oilfield services companies feeling a little bit of revenue and profit pressure especially this year which I believe is partially related to the graft probe issues," said Leo Hu, an analyst at Standard & Poor's in Hong Kong. "This, we believe, has decreased the national oil companies' propensity of engaging third-party oil services companies."
Stresses Mount
The corruption probes are adding to pressure on issuers of riskier bonds as prices for oil, coal, metals and property slide amid a slowing economy. The Bloomberg commodities index touched the lowest since 2002 on Jan. 29, after a government report showed that U.S. crude inventories advanced to the highest level in at least 30 years. The price of Brent crude, the benchmark used by most of the world, has slid 57 percent to $49 a barrel from its high last year in June of $115.
Chinese exploration and production projects have been delayed amid the government's investigations into state-owned oil and gas companies, Fitch Ratings Co. said in September.
Ratings Cut
Anton Oilfield expects profits may slump more than 140 percent for a net loss due to "the adjustment in the domestic market and decrease in international oil price," it said in a Jan. 18 filing. That prompted Fitch Ratings to cut its credit score to BB- and Moody's to reduce its ranking to Ba3. Both ratings are three steps below investment-grade.
A person who answered the phone at Anton Oilfield's investor relations department and identified himself as Chen said there was no one immediately available to comment. There was no immediate reply to an e-mail to the company's investor relations department.
Honghua, based in the southwestern city of Chengdu, said in a November filing that profit for 2014 "will decrease significantly." Moody's downgraded it to B2, five levels below investment-grade.
Drilling contracts from major state-owned oil producers have slumped due to the anti-corruption campaign, which has hurt Honghua's business, according to a company spokeswoman who asked not to be identified.
Economy Cools
MIE Holdings Corp., an energy contractor, issued a profit warning in July, and sold its subsidiary Pan-China Resources for $83.2 million in August. The company operates oilfields in the Jilin oilfield in northwestern China owned by PetroChina Co., a company controlled by CNPC whose former chairman Jiang Jiemin has been charged with corruption.
A person who answered the general line at MIE in Hong Kong said that no one was immediately available to comment.
"There are some companies that reduced their capital expenditures very quickly and sold some assets and have a reasonably strong cash balance," said Nish Popat, portfolio manager for Neuberger Berman Group LLC in the Hague. The firm had $250 billion under management as of Dec. 31, 2014.
China's economy grew 7.4 percent in 2014, the slowest in more than two decades, and expansion will cool to 7 percent this year, according to the median estimate in a Bloomberg survey. The weakening expansion and anti-graft campaign are affecting businesses from gaming to real estate.
Macau's casinos recorded their worst year in 2014, ending a decade of expansion aided by high rollers who now face more restrictions. Developers including Kaisa Group Holdings Ltd. and Agile Property Holdings Ltd. have been linked to government probes.
'On Hold'
The average yield on the riskiest dollar notes from Chinese borrowers jumped to the highest since 2012 at 12.4 percent on Jan. 19. As investors seek havens, the yield on the nation's benchmark sovereign securities has dropped 13 basis points this year to 3.5 percent. The yuan has slumped 0.7 percent against the dollar in the same period.
"For Chinese state-owned oil companies, some of their projects and investments have been put on hold," said Gary Lau, a Hong Kong-based managing director for corporate finance at Moody's. "While it's hard to quantify how much of these come from a slowdown in capex because of low crude oil prices and how much is from the anti-corruption campaign, it could be a combination of both."
Before it's here, it's on the Bloomberg Terminal.
LEARN MORE