Nomura Profit Unexpectedly Surges on Investment Banking
Takahiko Hyuga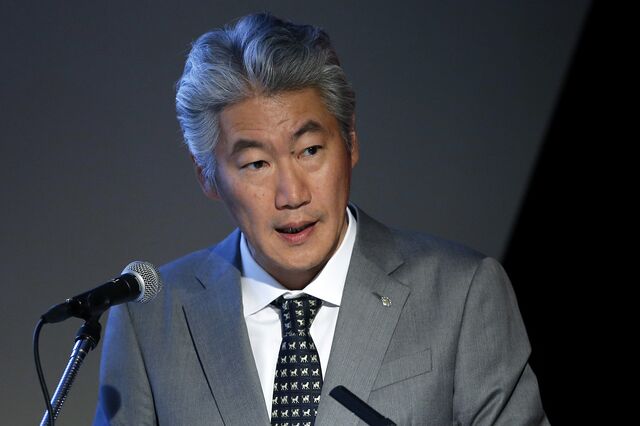 Nomura Holdings Inc.'s profit unexpectedly surged to the highest in almost two years, upending analysts' estimates for a decline as fees from investment banking and asset management rose.
Net income climbed 45 percent to 70 billion yen ($595 million) for the three months ended Dec. 31 from 48.3 billion yen a year earlier, Japan's largest brokerage said in a statement on Thursday. That beat the 37.2 billion-yen average estimate of eight analysts surveyed by Bloomberg. The Tokyo-based company said it will buy back shares.
Nomura continued to benefit from a Japanese stock-market rally last quarter, while further losses overseas prompted its chief financial officer to hint at job cuts. To secure stable profit, Chief Executive Officer Koji Nagai is bolstering investment banking and electronic trading services abroad and focusing more on asset management at home.
"Nomura's prospects are looking brighter in the long run," said Koichi Niwa, an analyst at SMBC Nikko Securities Inc. in Tokyo. "The firm is trying to change and develop its business model, and it's increasingly offering products and services for investment banking and trading abroad."
Nomura said it will spend as much as 30 billion yen buying back up to 1 percent of its shares during the current quarter.
Revenue climbed 14 percent to 507.6 billion yen, the report showed. Investment banking fees increased 82 percent, asset management fees rose 20 percent and brokerage commissions climbed 3.7 percent.
Overseas Loss
Still, Nomura had a pretax loss from overseas operations of 7 billion yen, swinging from a profit in the previous quarter, as its fixed-income trading suffered from the drop in interest rates and increase in market volatility that hurt Wall Street banks.
"We will have to review our business performance more strictly than in the past," Chief Financial Officer Shigesuke Kashiwagi said of the overseas operations on a conference call with analysts. "It's possible that there will be cost cuts across front, middle and back offices."
He reiterated a target to post 50 billion yen in pretax profit abroad in the year ending March 2016.
Nomura eliminated about 12 jobs at its Asia equities division in Hong Kong to focus on more profitable businesses, a person with knowledge of the matter said this month.
At the same time, the company plans to recruit about 20 senior bankers in the U.S. and Asia to boost its mergers and acquisitions advisory business, global investment banking head Kentaro Okuda said in an interview this month.
Abenomics Boost
Nomura's domestic business has been driving earnings since Prime Minister Shinzo Abe came to power at the end of 2012 with a promise to end decades of deflation through economic stimulus, driving demand for Japanese stocks. Last quarter's profit was the highest since the three months ended March 2013.
Additional monetary easing by the Bank of Japan in October boosted the stock rally in the quarter. The Topix index gained about 13 percent in the past year, while Nomura shares slid 19 percent. The stock slid 1.2 percent to 625.4 yen in Tokyo before the earnings were released.
Nomura is shifting the focus of its domestic retail brokerage to manage more assets for individuals instead of trading securities for them. Assets under management climbed to a record 104.8 trillion yen as of Dec. 31, the earnings statement showed. Nagai, 56, wants to expand the total to 150 trillion yen by March 2020.
Mergers and acquisitions advice boosted Nomura's investment banking business. The firm was ranked 20th among global M&A advisers last quarter, advising on deals valued at $21.5 billion, more than half the amount it worked on in all of 2013, data compiled by Bloomberg show.
It helped advise Canada's Talisman Energy Inc. as Repsol SA, Spain's largest energy company, agreed in December to buy the Calgary-based company for $8.3 billion.
Before it's here, it's on the Bloomberg Terminal.
LEARN MORE