No, Conservatives Aren't Really Turning on Sarah Palin
Sarah Palin's problems on the right are overrated.
By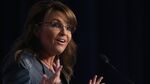 If there is a political fact lab-tested to irritate reporters, it is this: Sarah Palin may be the most famous politician in America with a journalism degree. The University of Idaho graduate, who holds a bachelor's degree in communications with a focus on the life of kings, baits and commands the media like few people with her resume. If her power is fading—and five and a half years after she quit the governor's office, it is—she's still able to bait the press into covering her and mocking her, while she has the last chuckle at them.