Nippon Steel Cuts Profit Forecast Following Oil Price Drop
Masumi Suga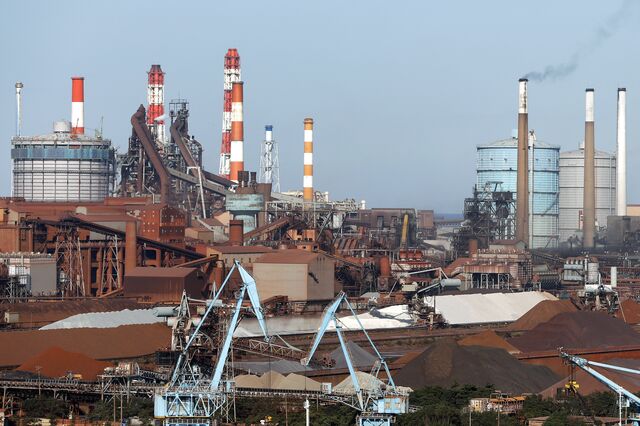 Nippon Steel & Sumitomo Metal Corp., the world's second-biggest steelmaker, expects annual profit to lag earlier estimates as the plunge in oil prices hits an operation in Brazil that produces pipes for crude producers.
Net income will probably total 180 billion yen ($1.53 billion) in the 12 months ending March 31, compared with an earlier forecast of 250 billion yen, the company said in a statement today. Full-year results will be affected by a 68.6 billion yen charge related to the Brazilian venture.
The charge and lower profit outlook underscore the domino effect of lower oil prices on a host of suppliers to the petroleum industry. Crude prices have dropped by more than half since June 30, forcing drillers to scale back on output. The number of oil rigs in the U.S. has dropped to the lowest in two years, according to data from Baker Hughes Inc.
"The recent rapid decline in oil prices is expected to impair the business environment surrounding the oil and gas related markets and future profits" of Brazilian affiliate Vallourec & Sumitomo Tuboes do Brazil Ltd., Nippon Steel said in a separate statement.
The Japanese steelmaker, formed by the merger of Nippon Steel Corp. and Sumitomo Metal Industries Ltd. in 2012, declined as much as 2.1 percent to 288.5 yen as of 2:30 p.m. in Tokyo trading after release of the outlook and quarterly result.
Oil Drilling
For the three months ended Dec. 31, net income fell to 41.3 billion yen from 77.2 billion yen a year earlier, according to calculations based on nine-month results reported by the Tokyo-based company today. Sales rose 2.9 percent to 1.40 trillion yen from 1.36 trillion yen.
The Vallourec affiliate in Brazil, 40 percent owned by Nippon Steel & Sumitomo and 56 percent held by Vallourec, has capacity to make 600,000 metric tons of seamless steel pipe a year, today's statement said.
The piping is used in drilling, well lining and production in the areas of extraction and transportation of oil and gas, according to the company's website.
Companies idled 49 U.S. oil rigs last week, bringing the total to 1,317, in the seventh weekly decline, Baker Hughes said on Jan. 23.
Before it's here, it's on the Bloomberg Terminal.
LEARN MORE