Mexico Keeps Key Rate at Record Low 3% on Risks to Economy
Eric Martin and Brendan Case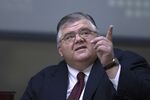 Mexico's central bank kept borrowing costs unchanged at a record low, saying the economy faces significant downside risks. Interest rate swaps increased as policy makers signaled they don't see room to cut rates further.
Banco de Mexico's board, led by Governor Agustin Carstens, kept the overnight rate at 3 percent as forecast by all but one of 30 economists surveyed by Bloomberg. After a surprise half-point reduction in June, policy makers have kept rates unchanged in an effort to provide stimulus without stoking inflation.
The central bank will pay particular attention to the exchange rate, monetary policy relative to the U.S. and the degree of economic slack in light of Mexico's anticipated recovery, policy makers said in the statement accompanying today's decision. The central bank said it can't rule out that the peso remaining at current levels for a prolonged period or weakening further could spur inflation.
"Today's policy statement clearly signaled that the central bank has no appetite for further interest rate cuts," Alonso Cervera, chief economist for Latin America at Credit Suisse Group AG, said in an e-mailed response to questions.
Policy makers probably will keep borrowing costs unchanged until the third quarter, when they'll raise them for the first time since 2008 as the Federal Reserve increases rates, according to the median forecast of economists surveyed by Bloomberg.
Swaps Rise
One-year rate swaps rose 0.07 percentage point to 3.46 percent, signaling higher odds for a rate increase. The peso maintained its loss following the decision, weakening 0.3 percent to 14.7950 per U.S. dollar.
Mexico's peso has been under pressure from slumping oil prices and expectations the Fed will increase U.S. interest rates. The currency has weakened 12 percent against the dollar in the past six months and fell to a five-year low this month.
Further volatility in international financial markets could lead to additional fluctuations in the peso, the central bank said.
"Therefore it will be of great importance to strengthen our country's macroeconomic framework when convenient, mainly in the fiscal area but of course in the monetary area as well," policy makers said.
Banco de Mexico also said it sees inflation slowing to its 3 percent goal by midyear and ending 2015 below that level.
Economic Outlook
Banxico has been on hold since June after cutting the key rate 1.5 percentage points in the previous 15 months to boost an economy that has been dragged down by weak domestic demand.
Retail sales rose 1.2 percent in November from a year earlier, less than the 3.7 percent forecast of analysts surveyed by Bloomberg. Economic activity as measured by the IGAE indicator rose 2.04 percent in November from a year ago, less than the 2.3 percent median forecast.
The central bank in today's statement said that while Mexico's economy continues showing a moderate recovery, private consumption still hasn't shown clear signs of rebounding and increased public spending has had a limited effect on growth.
"Taking into account the slow recovery in domestic demand, which is expected to continue in coming months, significant downside risks to the economic activity remain," policy makers said.
While the central bank's most likely next move is a rate increase, the central bank gave itself room to cut if economic weakness remains, the peso appreciates and the Fed takes longer to increase borrowing costs, said Alexis Milo, Deutsche Bank AG's chief Mexico economist.
Faster Expansion
"They're leaving their choices open," Milo said in a telephone interview from Mexico City. "Even though they say the balance of risks for inflation remains the same, if you read between the lines, it seems that the prospects for inflation have improved very much."
Mexico's economy is still expected to grow faster than the average for Latin America. Analysts surveyed by Bloomberg forecast Mexico's 2015 gross domestic product growth to accelerate to 3.4 percent, more than twice the 1.5 percent projected for the region and up from 2.1 percent in 2014.
While a weak currency can spur inflation by making imports more expensive, Carstens said in an interview with Bloomberg Television on Jan. 23 that the peso will probably be buoyed by capital inflows after the European Central Bank expanded its stimulus plan.
Global Growth
Slowing global growth and plunging commodity prices have prompted central banks from Canada to Japan to step up stimulus measures to prevent a slump in prices from morphing into outright deflation.
Mexican consumer prices fell in the first half of January from the prior two weeks, slowing annual inflation to 3.08 percent from 3.97 percent at the end of December.
Carstens said in a Jan. 8 speech that Mexico's economy is likely to expand below potential for all of 2015 and a "good part" of 2016. At the same time, there's a "high probability" Mexico will need to raise rates this year because of the likelihood of higher borrowing costs in the U.S., he said.
The Fed yesterday boosted its assessment of the economy and played down low inflation while repeating a pledge to stay "patient" on raising interest rates.
The plunge in oil prices is ramping up pressure on Petroleos Mexicanos, the state-owned crude producer whose revenues fund about one-third of federal government spending. The company is seeking to renegotiate existing rig contracts as part of efforts to cut costs after a decade of output declines.
Although the government has said it can make up for the drop in crude prices partly because of hedges it has in place, public spending is likely to suffer, according to Capital Economics Ltd., a London-based forecasting firm that had predicted the central bank would cut rates today.
The oil decline has one bright spot for the Mexican economy -- lower fuel prices in the U.S. may spur consumer spending in the nation that buys about 80 percent of Mexico's exports.
Before it's here, it's on the Bloomberg Terminal.
LEARN MORE