Russia ADR Volitility Surges on Suprise Interest Rate Cut
Elena Popina and Halia Pavliva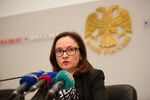 Price swings in U.S.-traded Russian stocks surged to a three-year high as investors weighed the potential impact of the central bank's surprise interest rate cut on an economy forecast to slip into recession this year.
Fifty-day historical volatility in the Bloomberg Russia-US Equity Index rose to 55 percent on Jan. 30, the highest since November 2011. The gauge of the country's most traded stocks in New York fell 0.3 percent. The Market Vectors Russia ETF fell 1.3 percent after gaining 1.2 percent, as price swings jumped to the highest levels since 2009.
U.S-traded Russian equity assets fluctuated as policy makers cut the target rate to 15 percent from 17 percent, surprising all but one of 32 economists surveyed by Bloomberg. The move came seven weeks after they raised it 6.5 percentage points to try to stabilize the plunging ruble. The currency has since fallen a further 7.5 percent, and the sudden rate reduction stoked concern that policy makers now see the shrinking economy as a greater threat.
"The decision confused investors, who expected a rate cut to happen in late February or March," Aleksei Belkin, the chief investment officer at Kapital Asset Management LLC, said by phone from Moscow on Jan. 30. "It signals that things are gradually going to improve in Russia, and things are just getting worse."
Gross domestic product is projected to contract 4 percent this year as a plunge in oil, Russia's top export, exacerbates the impact of international sanctions linked to the Ukraine conflict. Inflation soared to a five-and-a-half year high of 13.1 percent as of Jan. 26, according to the central bank.
Ruble Drops
The monetary authority raised the benchmark interest rate six times last year in an effort to stabilize the ruble and tame surging consumer prices. Central bank governor Elvira Nabiullina has come under pressure from officials and business leaders, including billionaire Oleg Deripaska, who have expressed concern about the impact of high interest rates on the economy and banks.
The ruble, which plunged 46 percent last year, slid 0.3 percent against the dollar to 68.9105 on Jan. 30 after dropping below 70 for the first time in six weeks. Brent crude, the oil grade traders use pricing Russia's main export blend, rose 7.9 percent to $52.99 a barrel. Oil, which along with natural gas accounts for about half the country's budget revenue, is still down 54 percent since June.
Ukraine Flareup
"The good news is that the central bank managed to keep the ruble from panic selling as it cut the rate," Oleg Popov, a money manager at April Capital Asset Management, said by phone from Moscow on Jan. 30. "If the currency stabilizes at these levels, the markets may expect more cuts, as the central bank is trying to get ahead of the game and sustain the economy by making loans more affordable for companies."
Fighting flared up last week in the eastern city of Debaltseve, where rebels said they had surrounded government positions in an assault that Ukraine and its allies in the U.S. and Europe said was backed by Russia. President Vladimir Putin denies involvement. The escalation of the conflict stoked concern that international sanctions against Russia may be widened.
The Bloomberg gauge of U.S.-traded Russian stocks slid 4.4 percent to 51 last week. Lender OAO Sberbank was the worst performer, tumbling 14 percent to $3.83. Yandex NV, which operates Russia's biggest search engine, dropped 13 percent to a record-low $14.89. The Market Vectors Russia ETF sank 8.4 percent to $14.62.
"The rate cut shows authorities in Russia have changed their priorities and there is still no reason for any optimism on the market as the ruble and oil fall and the Ukraine crisis deteriorates," Ilya Kravets, the New York-based director of investment research at Daniloff Capital, said by phone on Jan. 30. "You don't stimulate economic growth with a cut from 17 percent to 15 percent."
Before it's here, it's on the Bloomberg Terminal.
LEARN MORE