Sweaty Workouts Sweep Hong Kong as Elite Get Ripped
Natasha Khan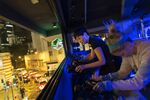 Just down the road from Hong Kong's popular night clubs dragon-i and Tazmania Ballroom, another venue opened last year with the same booming music and strobe lights. Here clients sweat in lycra rather than designer clothes.
The latest trend sweeping Hong Kong isn't leather handbags or frozen yogurt: it's intense fitness. After years of limited options, people in Asia's financial capital can now pay HK$2,000 ($258) a month or more for workouts with an edge, amping up the sweat factor.
Studio Fitness, the club-like gym that opened in April and offers drills with names like "Get Ripped," broke even in May and plans to expand to a new floor, says co-founder Justin Wills. Wills and other proprietors settling into some of the world's most expensive real estate say clients are waking up to the appeal of fitness that blurs the line between exercise and entertainment -- even if the fees are as demanding as the workout. Some are building their brand with a view of taking it to mainland China to tap growing demand for wellness.
"Never have I seen this kind of interest in getting healthy in 13 years," said Colin Grant, who in 2002 co-started Pure Group, one of the city's biggest premium gym operators with five central venues and another seven in the periphery. "People just want to exercise."
Party Talk
Hong Kong's growing economy -- gross domestic product is forecast to expand 2.8 percent this year -- combined with a high life expectancy are making it a prime fitness market. More entrepreneurs are introducing trendy alternatives to lure the city's affluent expats as well as local residents. Dozens of new outlets have sprouted up in the past year, with owners preparing to rent out some of the poshest real estate to add more. Pure plans one of its biggest openings yet in April: a six-floor gym in California Tower, an entertainment behemoth in the center of Lan Kwai Fong, which houses many of the city's bars and clubs.
The change is visible: people walk around the streets in active wear, they carry yoga mats, and at parties it's no longer unusual to compare workout plans. It started with gyms like Pure, which gave locals a taste for the modern studio -- high tech, fun and central -- and the influence of a handful of expatriates and fitness buffs, who introduced Hong Kong to alternatives like CrossFit, a concept that combines cardio workouts, gymnastics, weight lifting and core training.
Grant, who plans to open two more outlets in Hong Kong's central business district this year, says it's not just that new people are signing up: existing customers are more driven as well. His gyms and yoga studios saw a 14 percent increase in usage last year compared to 2013. He figures Hong Kong's fitness market will double in the next five years, with gyms like his and boutique operators like Studio Fitness complementing each other to drive growth.
Pole Dancing
Pure's California Tower venue will feature a virtual reality room. Existing classes include body combat training, pole dancing and boxing, with about 20 participants on average for individual attention.
"It's really like traditional phones versus smartphones," says David Chang, a former banker who has opened two CrossFit gyms in the city since 2013. He says fitness in the future will be done "outside the traditional gym in our natural habitat and involve actual human interaction."
Like Wills, Chang entered the industry when he got frustrated by a lack of options in Hong Kong. He was a fan of CrossFit when he lived in California. After a run-in with staff at his old studio, where he was told he used too much space to exercise, he decided to start his own facility with a friend.
China Springboard
Their first gym, called 852 after Hong Kong's area code, opened in 2013. It now counts 260 members in two locations: one in the financial district and the other in Causeway Bay, the entertainment and shopping area where retail rents rival those of New York City's Fifth Avenue. Chang, who funds startups when he's not building his CrossFit business, is looking to settle in three more locations this year, including one in the business district four times the size of his existing gym, and another in Taiwan. By 2020, he aims to have as many as 25 studios across Asia.
For Chang, Hong Kong could be the springboard to leap into China when Asia's biggest economy is ready to embrace that type of intense fitness -- but that's not the case just yet, he says. Half of the world's 10,000 CrossFit gyms are located in the U.S. China has fewer than 10.
Bikini Fit
Bernard Yapp, who opened Beijing's first CrossFit outlet a little over a year ago, says a majority of his clients are expats, though he's using social media to lure more Chinese ones. By year-end he hopes that his Shanghai gym will have about 60 percent local customers, up from 40 percent now.
"The only way that CrossFit can grow in China is to get locals involved," the former automotive company marketing executive said. "It's just a matter of time."
China issued a national plan in October for the development of its sports industry, calling on companies to go public and attract foreign investment. The industry's value may exceed 5 trillion yuan ($800.4 billion) by 2025, according to the state-run China Daily.
For now, tai chi and group calisthenics in the park are still a more familiar sight in Beijing than air squats and Kettlebell swings. Not so in highly charged Hong Kong, where even a women-only exercise program has sprouted up. Bikini Fit charges HK$795 a week for a mandatory 12-week program with exercises in public parks six days out of seven.
Gladiator Workout
Wills and his business partner Beau Stephenson, the founders of Studio Fitness, say there's a social element to this trend: extreme workouts get people talking about their experience. They would know: the two pilots first bonded in 2012 during "Gladiator Workout" sessions.
The two men figure clients want to have fun, even if the minutes they work out feel like the longest of their life.
"I did 20 minutes of lunges, burpees, bench climbs and dumbbell curls, then 25 minutes up and down a spinning bike with weights, and during the 'rest time' I had to sit with my legs in the air," said Ajay Narang, a financial information sales executive who tried Studio Fitness for the first time this month. "The blasting music makes for a very different, good vibe."
The sound may have helped fuel his efforts, too. Scientists who studied two groups of adult volunteers performing high-intensity interval training on stationary bikes, one with music and one without, found that the music group had more pedal power and rated the experience as more enjoyable. The research was published last year in the monthly journal Medicine & Science in Sports & Exercise.
Narang says he'll sign up with Studio Fitness because while traditional gyms help maintain body shape, something more intense is required to effect change.
Spartan Soldier
That drive for results is what got Willie Booker, a former equities derivatives trader, to lose 40 pounds last year. Booker decided to put priority on his health after his foot was run over by a truck two years ago. Told he might not regain any sensation in his foot again, Booker researched every intense fitness program possible while on bed rest.
"I lived the banker life for years -- I didn't think twice before getting bottles at the club and downing shots," said Booker, who got fit in part thanks to a workout regime named Insanity. "I always talked about getting fit but never got round to it. Now I have."
Booker now organizes week-long fitness camps in Taiwan. Left to their own devices, most people tend to join the gym in early January and abandon their New Year's goals within weeks. Class-driven facilities push people to more closely reach their physical goals, he said.
Before his transformational workout, Booker recalls dressing up as the tubby character Mario from Nintendo Co.'s Super Mario video games for Halloween and his friends laughing because "he was so fat he looked like Mario." After seven months of exercising, he said he went out as a Spartan soldier from the fantasy war film 300, and no one was laughing anymore.
Before it's here, it's on the Bloomberg Terminal.
LEARN MORE