Jeb Bush Snags Key Romney Adviser
If Bush decides to run for president, Iowa's David Kochel reportedly will be his campaign manager.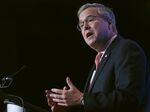 From the Des Moines Register:
Jeb Bush has successfully recruited a key political strategist into his inner circle: Iowa's David Kochel, who has been a close adviser to Mitt Romney since Romney's earliest days on the presidential campaign trail.

After three months of soul-searching and election forecasting, Kochel decided this week to join Team Bush, he told The Des Moines Register today in an exclusive interview.

Kochel, 50, of Des Moines, will be a senior adviser to Bush's new political action committee, Right to Rise. If Bush pulls the trigger and runs for president of the United States, Kochel would be tapped to lead his national campaign, Bush's advisers told the Register.
Read more here: