Islamic State Sets Sunset Deadline for Hostage Swap
Donna Abu-Nasr and Isabel Reynolds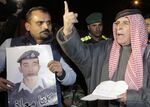 The new deadline Islamic State set for Jordan to release a convicted militant passed without proof that the Jordanian pilot in the jihadist group's captivity is still alive.
Without guarantees that pilot Moath al-Kasassbeh is alive, the Jordanian government can't meet Islamic State's demand to free Sajida al-Rishawi, who is on death row, Jordan's Minister of State for Media Affairs Mohammad Momani said shortly before the deadline passed.
Jordan has asked for proof that Kasassbeh "is alive and didn't get it," he said in a statement read on television.
Islamic State set the new deadline for Rishawi's release on Wednesday. It said it would kill Kasassbeh "immediately" if al-Rishawi isn't handed over by sunset Thursday in Mosul, Iraq.
A man purporting to be Kenji Goto, the Japanese journalist that Islamic State has also threatened to kill, conveyed that message in an audio clip, according to SITE Intel Group, a company that studies militant movements. The exchange was supposed to take place at the Turkish border, according to the audio message.
The pilot was captured by Islamic State last month when his plane crashed in Syria during a bombing run against the group.
Al-Rishawi was convicted for her part in attacks on three hotels in Amman in 2005 that killed dozens of people. Her husband carried out a suicide bombing, while her bomb failed to explode.
The possibility of a deal may strain ties between the countries and the U.S., which has pushed its allies not to negotiate with militant groups like Islamic State. Japanese Prime Minister Shinzo Abe has repeatedly said he would never cave in to terrorists.
Before it's here, it's on the Bloomberg Terminal.
LEARN MORE