Iranian President to Tax-Exempt Groups: Pay Up
By and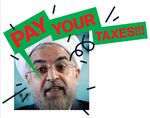 Iran's economy has been limping badly. The U.S.-driven sanctions imposed because of Iran's nuclear program have curtailed its oil exports and cut off its banks from global financial networks. A 58 percent oil price slump since June has done damage, and the government is revising a draft budget that will lower the assumed price of oil to $40 a barrel from $72. The budget for the year ending in March was based on crude at $100 a barrel. After contracting 5.6 percent in 2013, the economy probably managed just 1.5 percent growth in 2014, according to the International Monetary Fund.
To make up for lost growth, Iran's President Hassan Rouhani has called for conglomerates controlled by the Islamic Revolutionary Guard Corps and conservative religious foundations to give up their tax-exempt status and pull their weight. Although the Parliament backs Rouhani, he faces powerful groups including the Guards and Setad, a holding company controlled by the office of the Supreme Leader Ayatollah Ali Khamenei, Iran's highest authority. Setad holds large stakes in the telecom and petrochemical industries, among others. The businesses run by the Guards and the clerics account for about a third of Iran's economy. "We are trying to tax everyone across the board, but as soon as we touch this or that institution, they make such a stink about it," Rouhani told business leaders in a Jan. 4 speech. "Just be aware that in some cases the domestic political lobby is very strong, very strong, more than you think."
The Revolutionary Guards, created as an ideologically driven militia to protect the gains of the 1979 Islamic Revolution, are a major presence in Iran's economy and politics. The Guards, who report directly to the supreme leader, entered the economic arena for the first time when their engineering company won government contracts to rebuild the country after its eight-year war with Iraq ended in 1988. Under former President Mahmoud Ahmadinejad, the Guards won thousands of projects valued at $25 billion, according to Kaleme, an opposition news website. The projects range from aerospace and construction to developing oil and gas fields. Ahmadinejad appointed former Guards commanders to key cabinet posts, including the oil ministry, further cementing their position.
Rouhani's call for an end to tax exemptions is part of a broader struggle between moderate clerics and the Guards, who have acquired power and wealth by aligning themselves with Iran's most conservative politicians and parties. Rouhani wants to end Iran's isolation, find an exit from the nuclear maze, and loosen the rigid religious rules that regulate society. Khamenei has backed Rouhani in pursuing nuclear talks but is less supportive of his push for social change. Getting the Guards to disclose assets and pay taxes would be a major victory for the moderates.
"The pressure to tax these entities is because the government needs the money," says Ali Dadpay, an Iranian-born economics professor at Clayton State University in Morrow, Ga. "Everyone in Iran understands that." Whether Rouhani's government can lessen the impact from falling crude prices by boosting tax revenue is debatable, says Rajabali Mazroui, who once served on the Parliament's budget planning committee and now lives in exile in Belgium. He adds that the gap can be narrowed if Rouhani "manages to collect tax from entities that didn't pay so far."
In December, Parliament voted to tax the Guards, Setad, and Astan Qods Razavi, a religious body that oversees the shrine of a Shiite saint. The legislation is now under review by the Guardian Council, a 12-member body that reviews all bills passed by Parliament and has veto power. Khamenei chooses half the council. Few financial details are public about the companies controlled by the Guards and other conservative groups, says Dadpay, who studies the regime. "If you can get these entities to be transparent, to show their books, that will have more benefit for the economy than the actual tax revenue collected," he says.
Rouhani's proposed budget for the fiscal year starting on March 21 includes an increase in tax revenue of about 23 percent, to 870 trillion rials ($32 billion), mostly through broadening the tax base. Iran plans "to catch in the net" those who evade taxes, Finance and Economy Minister Ali Tayebnia told reporters on Jan. 17. Former Presidents Mohammad Khatami and Ali Akbar Hashemi Rafsanjani also tried to turn the Guards and the religious foundations into taxpayers. "It is still possible that Rouhani plans to challenge the conservatives head-on," says Alireza Nader, a senior analyst at Rand, the think tank. "But he's in for a big fight, a fight that others, such as Khatami and Rafsanjani, fought and lost."
Setad's assets are valued at about $90 billion and include three oil companies. The Guards' construction wing is now the biggest engineering company in Iran. Astan Qods Razavi controls 44 companies and has stakes in another 60. "The accounts of the Guards' financial entities are like a black box," says Saeed Ghasseminejad, a researcher on Iran at the Foundation for Defense of Democracies, a Washington-based think tank. "The government has no idea as to what goes on there."
An added challenge comes from the multiple roles these conglomerates play. Astan Qods has profitable businesses but is also a religious charity. The Guards are fighting Islamic State in Iraq. "The issue of religious, revolutionary, and military foundations and companies is more complex than meets the eye," says Bijan Khajehpour, managing partner of Atieh International, a consultant to Mideast businesses. "Reforming the current structure will be a long-term process." 
The bottom line: The fight over tax-exempt status in Iran is part of a bigger struggle between the moderates and the hardliners.
Before it's here, it's on the Bloomberg Terminal.
LEARN MORE