In India, Low Wages Start at the Top
By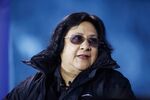 Claw your way to the top executive ranks of a state-owned bank in India, and you'll earn little more than the cooks at McDonald's or Burger King in Los Angeles International Airport, where the minimum wage is $11.03 an hour for employees with health benefits and $15.84 for those without. In India, state-run bank chiefs make about $11.48 an hour. They do get perks: health insurance, a car, a driver, and free housing. Still, the heads of India's five biggest state-owned banks earn salaries and bonuses of 2 million to 2.5 million rupees ($32,600 to $40,700), according to the latest data available. That works out to 705 rupees an hour on average for what bank spokesmen say are workweeks that total 60 hours and include Saturdays.
The average top salaries are less than 5 percent of those at India's private banks, where chief executive officers also earn stock options. "They should be paid more and offered stock options like their peers in the private sector, as they are pulling the same weight," says Aditya Narayan Mishra, president of staffing in India for human resources firm Randstad Holding.
The government holds majority stakes in 22 lenders including State Bank of India, which in turn has a majority stake in five other banks. Pay is low up and down the ranks. A teller at a state-run bank makes less than 20,000 rupees a month, or about $1.70 an hour for a 48-hour workweek. After more than a million employees of state-run banks threatened to strike, demanding a 19.5 percent salary increase, bank management on Jan. 19 promised unspecified raises by Feb. 15. The workers say they will strike if their demands aren't met. Banks say they "cannot afford higher raises as profits are under pressure due to the rise in nonperforming assets," says C.H. Venkatachalam, general secretary of the All India Bank Employees Association, a union representing 500,000 workers.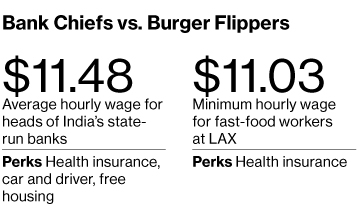 At India's largest private lender, Mumbai-based ICICI Bank, CEO Chanda Kochhar was paid more than 52 million rupees, or $847,000, in the 12 months through March 31, according to ICICI's annual report. "Significant and widening compensation differences with private-sector banks, leading to the erosion of specialist skills," are hurting government-controlled banks' competitiveness and profitability, according to a May report by a panel appointed by the Reserve Bank of India.
Job openings at state-run banks still draw aspiring candidates. Last year, when State Bank of India had 1,897 vacancies for officer trainees, 1.9 million people applied—almost 1,000 job-seekers for each opening. Part of the appeal is job security. Unlike private banks, government-controlled ones tend not to fire anyone.
While entry-level salaries at state-run banks are higher than those at private-sector lenders, by the time employees reach midmanagement, pay at private banks is more than double that at public ones, says Mishra. The gap widens further at higher levels. So why don't more executives move to the private sector? "After putting in so many years in the state-run banks' environment, most of them don't want to move out of the comfort zone and let go of the job surety, lifestyle, or pension benefits," Mishra says. "Also, many of them would have lost the mindset and skills needed in the private sector."
The bottom line: Top pay at India's five biggest state-owned banks averages less than $41,000 a year.
Before it's here, it's on the Bloomberg Terminal.
LEARN MORE