Gazprom Faces Bleak Outlook as Quarterly Net Beats Estimates
Elena Mazneva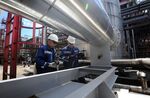 OAO Gazprom said third-quarter net income dropped 62 percent on a foreign-exchange loss and falling exports as slumping oil prices threaten to further cut into profit.
Net income dropped to 106 billion rubles ($1.5 billion) from 276 billion rubles a year earlier, the world's biggest natural-gas supplier said today on its website. That beat the average estimate of 58.8 billion rubles from nine analysts surveyed by Bloomberg as Gazprom reported a lower currency loss than forecast. Sales fell 5.9 percent to 1.13 trillion rubles.
Gazprom, which delivers about 30 percent of the European Union's gas, had its lowest export volumes in 11 years in 2014 and cut output to a record low as Europe and Ukraine seek to diversify supplies. The non-cash currency loss may reach $25 billion for the full year, putting the company's dividend at risk, Sberbank CIB analysts in Moscow wrote Wednesday in a note.
"The most serious currency losses will come in the fourth quarter, and Gazprom's annual profit is seen at less than 1 trillion rubles, the lowest since at least 2010," said Alexander Kornilov, an oil and gas analyst at Alfa Bank in Moscow, who had forecast third-quarter net income of about 80 billion rubles. The quarterly currency loss "was lower than expected; Gazprom reflected a positive effect from the depreciated ruble in operating expenses."
Ukraine Debt
Operating expenses fell 12 percent to 770 billion rubles. Gazprom reported a foreign-exchange loss of 273 billion rubles in financing expenses, compared with a net gain a year earlier.
The ruble tumbled against the dollar last year as oil prices plummeted and sanctions over the conflict in Ukraine battered Russia's economy. Gazprom ties the prices in most of its export contracts to oil and refined products with a lag of as long as nine months.
"Ongoing and any further decline may adversely affect our business, results of operations, cash flows, financial condition and potentially our capital program," Gazprom said about crude prices.
Free cash flow dropped to 4.7 billion rubles in the third quarter, down 94 percent from the previous three-month period, according to calculations based on Gazprom's reports. Net debt rose to 1.27 trillion rubles as of Sept. 30, an increase of 14 percent from the start of the year.
Gazprom stopped supplying Ukraine in June to December during a payment dispute, citing debts of more than $5.3 billion. Ukraine's NAK Naftogaz Ukrainy paid out $3.1 billion in the fourth quarter after the companies signed an EU-brokered interim deal to last through the winter heating season.
Naftogaz and Gazprom filed arbitration proceedings against each other in Stockholm over prices and the outstanding debt, and are still awaiting the outcome.
Gazprom cut its provision for Ukraine's unpaid debt in the third quarter by 37 percent to 138.5 billion rubles, which helped to ease the drop in profit, according to Kornilov.
Gazprom shares declined 0.7 percent to 146.70 rubles by 2:09 p.m. in Moscow.
Before it's here, it's on the Bloomberg Terminal.
LEARN MORE