Ford Can't Make That New Truck Soon Enough
Profit slips close to break-even as Ford waits for new models to get traction
by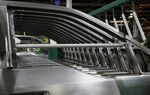 Ford Motor just took a little pit stop. In the fourth quarter, the company tinkered with a couple of things, such as its Venezuela balance sheet, and got tuned up for the year ahead without making a great deal of headway.
Sales for the carmaker declined 1.7 percent, to $35.9 billion, in the quarter, while Ford posted a profit of just $52 million, barely breaking even after a $3 billion windfall a year earlier. 
The results show just how tricky the business of making cars can be. In boom times, you have to spend heavily to spruce up factories and design new vehicles—a big drag on the quarter's results—and in bad times, well, things are bleak. Then there are ever-tightening emissions regulations and whipsawing currency markets, as in Venezuela.
While the car market is hotter than it has been in almost a decade, Ford, the second-biggest automaker in the U.S., was in retooling mode last quarter, ushering out a number of vehicles to make way for new models. Some would-be buyers put off purchases in anticipation of the next iteration.
At Apple, this happens with the iPhone. At Ford, it's the F-150 pickup—the top-selling vehicle in the U.S. for decades. In North America last quarter, as the 2015 version of the blockbuster truck was just starting to trickle into dealerships, F-150 sales dropped 3.5 percent. 
The Flex and Focus, two other models that are getting dated, also lost momentum. The Focus, a compact car last overhauled in 2010, saw sales slip 20 percent in the fourth quarter, while dealerships moved 14 percent fewer of the Flex, a van-like utility.
The company said that the stronger dollar depressed revenue and that it was forced to take a $1.2 billion writedown in Venezuela to account for that country's crumbling currency.
Chief Financial Officer Bob Shanks told reporters in Dearborn today, Jan. 29, that "2014 was a solid but challenging year," adding, "It positions us for a very strong 2015."
Perhaps the brightest spot amid the recent results: Ford held the line on prices, with its operating margin at 8.4 percent.
And there was some evidence that the company will thrive. The 2015 Mustang, which rolled onto lots in October, appears to be a big hit. Mustang sales surged almost 27 percent in the fourth quarter. Ford can only hope its new truck proves as powerful. 
Before it's here, it's on the Bloomberg Terminal.
LEARN MORE