Ukraine Talks to Resume in Minsk as EU Weighs Tighter Sanctions
James G. Neuger and Aliaksandr Kudrytski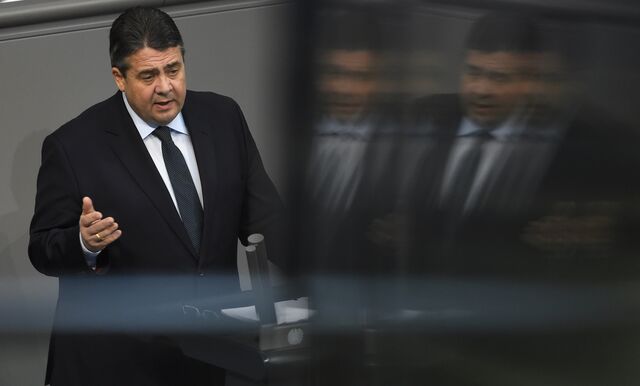 The European Union will discuss tightening sanctions over the escalating conflict in Ukraine on Thursday, as talks over the crisis are set to resume in Belarus tomorrow.
Negotiations involving Ukraine, Russia, rebel representatives and the Organization for Security and Cooperation in Europe are planned in Minsk, the Belarusian Foreign Ministry said on Twitter. Meanwhile, the top diplomats from the 28-member EU meet in Brussels, where they're considering "further restrictive measures" that may be coordinated with the U.S.
"I'm ready to serve tea and pencils to participants in the talks when they come to Minsk to reach an agreement" Belarusian President Aleksandr Lukashenko said Thursday at an annual news conference. "The Ukraine war needs to be stopped."
The renewed diplomatic push follows escalating unrest in a conflict the United Nations estimates has already killed more than 5,000 people. The Obama administration said it's ready to intensify pressure against Russia for backing the separatists. President Vladimir Putin denies Ukrainian and NATO allegations he's fueling the conflict by sending troops, weapons and armored vehicles.
Ukraine's military reported fierce fighting in the eastern town of Debaltseve on Thursday. The Belarusian capital was a venue for negotiations in September, when the belligerents clinched a cease-fire that's since been sidelined by the violence. Russia, Ukraine and the OSCE last met separatist leaders in Minsk in December.
'Big Catastrophe'
"It's time to stop indulging Ukraine's party of war, their hawks, to cover up their inhuman actions" Andrei Kelin, Russia's permanent representative to the OSCE, said in Vienna Thursday. "It's impermissible to push for the continuation of hostilities in eastern Ukraine. A big catastrophe would be the only result if events move in that direction."
Violence escalated last week along a front from the Donetsk and Luhansk regions toward the Sea of Azov. Five Ukrainian soldiers were killed in the past day and 29 were wounded, according to the military. Each side blames the other for the upsurge in fighting, which has killed more than 50 civilians since Jan. 13.
The conflict affects more than 5 million people, the Organization for Security and Cooperation in Europe estimates. Russia said Thursday that the refugee flows across its border are rising, while Poland said a record number of Ukrainians were arriving to seek work.
Ukrainian Foreign Minister Pavlo Klimkin will visit Brussels Thursday to meet EU foreign-policy chief Federica Mogherini and Trade Commissioner Cecilia Malmstroem, according to a government statement.
Maximum Pressure
"I will, as always, work to keep our unity and to exercise the maximum of pressure to stop the fighting and to reach a cease-fire," Mogherini said before the meeting in Brussels.
EU government representatives failed to agree Wednesday on a proposed six-month extension of travel bans and asset freezes on Russian politicians and military figures due to expire in March, three officials with knowledge of the talks said. Consensus was also elusive on a proposal to add names to the list and prepare further economic measures.
The meeting started at 3 p.m. in Brussels and is due to end in early evening.
Greece's new finance minister, Yanis Varoufakis, denied in a blog post that his government had opposed new sanctions, which require approval by each of the bloc's members. Objections to an EU statement on the subject stemmed from the failure to consult Greece, he said.
Greece's Goals
Greece's twin goals are to bring peace to Ukraine and work at "preventing a rift" with Russia, Foreign Minister Nikos Kotzias said in Brussels. Treasury Secretary Jacob L. Lew Wednesday reiterated plans for as much as $2 billion in U.S. loan guarantees to Ukraine, in addition to $1 billion granted last year.
"No one in Europe and definitely not in Germany has an interest in further, tougher sanctions," German Vice Chancellor Sigmar Gabriel told lawmakers in Berlin. Even so, there's "no alternative" to security based on "the inviolability of the borders of Europe and the avoidance of violence," he said.
Before it's here, it's on the Bloomberg Terminal.
LEARN MORE