U.S. Stocks Fall, Bonds Gain on Growth Concern; Oil Jumps
Jeremy Herron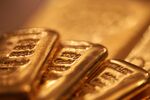 U.S. stocks fell, capping the worst month in a year, while Treasuries led a rally in bonds as data showed a slowdown in American economic growth and a decline in euro-area consumer prices. Gold jumped, and crude had its biggest advance since 2012.
The Standard & Poor's 500 Index fell 1.3 percent at 4 p.m. in New York, capping a 3.1 percent drop in January. The gauge briefly erased losses before selling accelerated in the final half hour of trading. West Texas Intermediate settled 8.3 percent higher to pare a seventh monthly retreat. Treasury 10-year yields slid nine basis points to 1.66 percent, while German 10-year bund yields declined as much as six basis points to a record-low 0.298 percent. The Stoxx Europe 600 Index retreated 0.5 percent, trimming the best start to a year since 1989. Gold rose 2.1 percent for the best month in three years.
The U.S. economy expanded at a slower pace than forecast last quarter as business investment cooled, government outlays slumped and the trade gap widened. Consumer prices in the euro area fell more than economists forecast in January, underscoring the challenges facing the European Central Bank as it combats deflation. Crude oil rose on speculation the almost 60 percent slump in prices over the past seven months will slow production. Russia unexpectedly cut its key interest rate.
"All this data does is further cloud the entire investment picture," Michael James, a Los Angeles-based managing director of equity trading at Wedbush Securities Inc., said in a phone interview. "It confirms that there's going to be continued uncertainty and continued significant volatility."
Divergent Forces
The S&P 500 retreated to start the year as concern mounted that slowing growth in Europe and Asia will hurt the American economy at the same time that the plunge in crude and the stronger dollar have shown signs of eroding corporate profits.
Volatility returned to the U.S. equities market in the month, as the S&P 500 capped two five-day losing streaks after going all of 2014 without falling for more than three days. The Chicago Board Options Exchange Volatility Index advanced 14 percent in January, with a 31 percent surge this week, the most since Dec. 12.
Federal Reserve officials are confronting divergent economic forces as they weigh the timing of the first interest-rate increase since 2006. Surprisingly strong job gains argue for tightening sooner, while inflation held down by a plunge in oil prices and a cooling global economy provides grounds for delay.
Best Month
European stocks rallied 7.2 percent in January, the best monthly gain since October 2011. The ECB's stimulus program jolted equities higher while sending the region's shared currency to multiyear lows versus the dollar.
The Bloomberg Dollar Spot Index advanced 0.2 percent Friday. The greenback has gained against all but three of its 16 main peers this year as central banks from Canada to Switzerland, Singapore and Russia shocked currency traders with surprise policy announcements, sending volatility higher.
The Stoxx 600 pared its monthly advance Friday after data showed the annual inflation rate in the euro area fell to minus 0.6 percent, matching the biggest decline in prices in the history of the single currency. The drop exceeded economists' estimates for a 0.5 percent slump.
Crude advanced after falling to the lowest level in almost six years in New York this week. The rally Friday pushed oil to the biggest weekly gain since July 2013 after Baker Hughes Inc. reported the oil rig count fell to a three-year low. Chevron Corp. on Friday became the latest oil company to cut spending in response to free-falling prices.
West Texas Intermediate decreased 9.4 percent in January, a seventh monthly drop that's the longest stretch of retreats since 2009. Brent fell 7.6 percent in the month, its seventh slide that is the longest since the contract began trading in 1988.
GDP Data
Data on Friday showed U.S. gross domestic product grew at a 2.6 percent annualized rate after a 5 percent gain in the third quarter that was the fastest since 2003, Commerce Department figures showed. Consumer spending, which accounts for almost 70 percent of the economy, climbed 4.3 percent, more than projected.
"In the background of all of these reports is the Fed," Jim Paulsen, chief investment strategist at Wells Capital Management, said by phone. Paulsen helps manage $351 billion in assets. "It's the big elephant in the room in terms of how fast they might raise rates."
The price plunge in Europe amplified the threat of deflation globally, sparking demand for fixed-income assets. Global debt has gained 1.7 percent in January, the best start to any year on record in a Bank of America Merrill Lynch index as central banks around the world cut interest rates and added to stimulus. Treasuries headed for a fourth monthly gain.
Bond Demand
"The underlying demand for bonds remains strong and this applies globally," said Jan von Gerich, an analyst at Nordea Bank AB in Helsinki. "We have some exceptions like the Federal Reserve that is trying to move toward less easy monetary policy but most are still going toward an easier policy. And then of course the big oil price drop was illustrated in falling inflation expectations."
For a second straight year, the global bond market is starting off with big gains and defying consensus predictions that yields would rise as U.S. policy makers move toward the first interest-rate increase since 2006.
Germany's government bonds climbed, driving yields down to records, as the nation's Finance Ministry poured cold water on Greece's push for agreement on a debt writedown.
Greek three-year securities fell for a fifth day after German Finance Ministry spokesman Martin Jaeger told reporters in Berlin Friday that a "discussion about a haircut or a debt conference is outside of reality." Greece's four-day old government will not co-operate with its troika of official creditors, Finance Minister Yanis Varoufakis said after meeting with Jeroen Dijsselbloem, chair of the euro region's group of finance ministers, in Athens.
Euro, Loonie
Investors are also scrutinizing earnings for clues to the strength of the U.S. economy. Companies from Procter & Gamble Co. to DuPont Co. and Pfizer Inc. have said the greenback's strength is eroding sales.
Amazon.com Inc. surged 14 percent after the online retailer posted a fourth-quarter profit, following two straight quarters of losses.
Google Inc. jumped 4.7 percent even as fourth-quarter sales and profit missed estimates.
Visa Inc., the world's largest payments network, climbed 2.3 percent as first-quarter profit beat analysts' estimates and the company announced a 4-for-1 stock split. Goldman Sachs Group Inc. is poised to replace Visa as the most heavily weighted component of the Dow Jones Industrial Average after the split.
Emerging Equities
The MSCI Emerging Markets Index fell 1.4 percent, taking its loss for the week to 3.2 percent and paring its monthly advance to 0.4 percent.
The ruble weakened 1.8 percent 70.0771 and the yield on 2028 ruble bonds fell 24 basis points to 13.46 percent. The dollar-denominated RTS index of stocks slid 1.4 percent, extending this month's drop to 6.8 percent.
The Shanghai Composite Index slid 1.6 percent, capping 4.2 percent decline in the week, the most for the period in more than a year. Chinese stocks have fallen as regulatory scrutiny of margin lending and tepid economic growth damp investor enthusiasm toward the benchmark index's world-beating rally.
The Hang Seng China Enterprises Index of mainland companies listed in Hong Kong slipped 0.1 percent, leaving it 2.2 percent lower in January.
The Bloomberg Commodity Index fell for a seventh month, the longest retreat in almost six years. It closed at the lowest level since 2002.
Gold climbed Friday to cap the biggest monthly gain in three years after the U.S. data renewed demand for the metal as a haven. Gold futures for April delivery rose 1.9 percent to settle at $1,279.20 an ounce Friday. The metal gained 8 percent this month.
Before it's here, it's on the Bloomberg Terminal.
LEARN MORE