Hope You Weren't Planning to Pay for That Warhol in Euros
By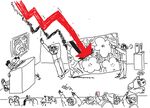 Sotheby's Important Russian Art auction in November 2013 was a £24 million ($37 million) triumph. An anonymous buyer snapped up two masterpieces before the bidding in London officially began. The gavel came down on Nikolai Fechin's Nude at £1.3 million, close to double its high estimate. Overall, 74 percent of lots sold. "It is great to see the market for Russian masterpieces thriving as one record after the other is smashed," said Jo Vickery, Sotheby's head of Russian art, at the time.
Then Russian President Vladimir Putin annexed Crimea and invaded Ukraine, and the backlash sent his country's economy—and its currency—into a tailspin. At Sotheby's Important Russian Art auction in November 2014, just 32 percent of lots sold. For Russian buyers, everything was more expensive: The ruble had lost 30 percent of its value against the dollar over the course of the year. The decline has since extended to more than 50 percent, a free fall that has some art dealers writing off the country entirely. "In general, one has to assume that there's no such thing as a Russian buyer anymore," says Henry Zimet, the president of French & Co., a New York gallery founded in the mid-19th century.
Foreign exchange fluctuations can seem esoteric and distant—altering the balance of exports and imports and affecting next quarter's or next year's gross domestic product. But one place where currency swings are felt almost immediately is the art market, where collectors around the world bid on a finite group of highly sought-after objects. With the European Central Bank's Jan. 22 announcement that it will begin buying €60 billion ($68 billion) of bonds a month to prop up the continent's economy, it's the euro's turn to weaken, and galleries and collectors are bracing to see how that affects a crucial stretch of the art world's calendar. The last week of January is traditionally when major London galleries open exhibitions, and starting on Feb. 3, auction houses there will host a two-week bonanza of impressionist, modern, surrealist, postwar, and contemporary art.

A euro is now worth $1.14, down about 16 percent in six months. The change is smaller and more recent than the ruble's troubles, but it's already hurting sales in this sensitive market. "The euro is just killing Europe, but it's killing Italy more than anything else," says Otto Naumann, a New York-based old masters dealer. "I haven't seen any Italian collectors buying anything." Across the continent, goods from furniture to video art to 600-year-old oil paintings are increasingly harder for Europeans to purchase and, accordingly, much harder for them to sell at a significant profit.
Their misfortune is American buyers' gain. As the euro sinks, the U.S. dollar has strengthened relative to other currencies, thanks in part to the continued U.S. economic recovery and the end of the Federal Reserve's bond-buying program. "It's a very good time to be an American buyer," says Amy Cappellazzo, a founder and principal of Art Agency Partners and the former chairman of postwar and contemporary art at Christie's. "The dollar is strong, and there's less competition." The coming months could see a repeat of the early 20th century, when millionaire American industrialists swept through Europe buying up paintings and collectibles from impoverished aristocrats.
British dealers also stand to gain, with the pound increasing in value relative to the euro by more than 5 percent since the start of the year. "Obviously, it makes it much cheaper in Europe for us to buy," says Mark Weiss, who owns London-based Weiss Gallery. "From my perspective, I'm more than happy that things are being bought in euros, converted to a sterling value on my books, and then being sold for much more powerful dollars."
The art market can sometimes seem untethered from reality—recall the reported $250 million sale of Cézanne's The Card Players to the Qatari royal family in 2011. But the recent volatility in foreign exchange has brought a reminder that behind the headline deals, the fine art trade is a market that is efficient in its own way. "Whether it's the ruble or the euro, if the currency isn't strong, people are going to behave rationally," says Mark Schaffer, whose gallery A La Vieille Russie on the East Side of Manhattan has been selling rarefied works since 1851. And rational behavior for Russians and Europeans in this case might mean sitting on the sidelines until their currencies improve.
The Russians who do remain active in the market are shopping with discretion. "You'll probably have less buying at the huge prices, but Russians will definitely be looking out for bargains," says Sandra Nedvetskaia, director of the contemporary art fair Cosmoscow and a former director of Christie's Russia. The smartest Russian buyers hedged their own currency risk before Putin's foreign policy plays. "Having spoken to collectors at the top level—we're not talking mid- or lower levels—they obviously have money in nonruble accounts," she says.
Nedvetskaia will be watching the upcoming London auctions to see who takes advantage of the changing market. "We have to see," she says. "Whenever there's a crisis, there's also an opportunity."
The bottom line: The ECB's plan to buy €60 billion of bonds a month is already shaking up the market for fine art.
Before it's here, it's on the Bloomberg Terminal.
LEARN MORE