Citizens CEO Says RBS Plans to Cut Bank From Books This Year
Elizabeth Dexheimer and Richard Partington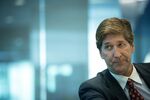 Royal Bank of Scotland Group Plc plans to remove its U.S. unit Citizens Financial Group Inc. from its balance sheet this year in one or two more share sales.
"Look for another one or two sales this year from RBS," Citizens Chief Executive Officer Bruce Van Saun said Thursday in an interview on Bloomberg Television. "Their goal that they've set is to deconsolidate us this year, in 2015, which means probably getting below 35 percent" ownership stake.
RBS raised $3.46 billion in Citizens's September initial public offering, one of the largest in the U.S. last year, selling about 25 percent of the consumer and business bank. Cutting its holding further enables the Edinburgh-based lender to boost capital as the U.K. government seeks to return RBS to full private ownership.
"It's ahead of the game, reflecting a pretty strong U.S. market," Mike Trippitt, an analyst at Numis Securities Ltd. in London, said by phone Friday. He has a hold rating on RBS stock. "Whether it's a net gain or loss on disposal is almost less important, the release of risk-weighted assets is significant."
Eliminating RBS's controlling interest in the Providence, Rhode Island-based lender would enable the removal of Citizens from its balance sheet. That could release as much as 60 billion pounds ($90 billion) of risk-weighted assets and boost RBS's common equity Tier 1 capital ratio, a measure of financial strength, by more than 2 percent, Trippitt said. The 80 percent taxpayer-owned lender had a capital ratio of 10.8 percent at the end of September.
RBS, Britain's biggest government-owned lender, isn't able to sell shares in Citizens until March 23. under an agreement at the time of the September IPO. The European Commission has given RBS until the end of 2016, to sell the rest of Citizens with a possible 12-month extension depending on market conditions.
Citizens shares rose 1.6 percent in New York trading Thursday to $24.24, giving a gain of 13 percent since its September debut.
Before it's here, it's on the Bloomberg Terminal.
LEARN MORE