Brazil Says Gain in Fighting Inflation Is Still Insufficient
Mario Sergio Lima and Raymond Colitt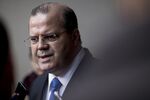 Brazil's central bank said progress in taming above-target inflation is insufficient after it bucked the trend of other central banks last week by raising its benchmark rate to the highest in more than three years.
"The progress achieved in the fight against inflation -- as exemplified by benign signs stemming from expectations of medium and long term indicators -- is still not enough," policy makers said Thursday in the minutes to their Jan. 20-21 meeting. Price increases "have made the balance of risks for inflation less favorable."
While policy makers from Canada to the European Union are easing monetary policy following the plunge in oil prices, Brazil's central bank board voted unanimously last week to raise the benchmark interest rate by a half-point to 12.25 percent in the third increase in a row. Following a possible acceleration of consumer price increases in the short term, inflation will begin a "long period of decline" this year, the board led by bank President Alexandre Tombini said.
Swap rates fell as traders were split on whether the central bank will raise the benchmark interest rate by 25 basis points or 50 basis points in March. The contract due January 2016 fell two basis points, or 0.02 percentage point, to 12.66 percent at 12:46 p.m. local time. The real weakened 0.6 percent to 2.5932 per U.S. dollar.
'Two Directions'
"It's a given they will raise rates," Flavio Serrano, a senior economist at BESI Brasil in Sao Paulo, said by phone from Sao Paulo. The minutes contain "dubious signs, pointing in two directions -- the central bank sees a stronger convergence of inflation to target, but says more needs to be done."
Serrano expects the central bank to slow the pace of rate increases to a quarter point in its March meeting.
Policy makers raised their 2015 forecast for increases in government regulated prices, such as energy, to 9.3 percent from 6 percent, according to the minutes. They also see gasoline prices rising 8 percent because of higher taxes.
While central banks elsewhere are increasingly concerned with the risk of deflation and slower growth, Brazil is only beginning to unwind policies that fanned consumer price increases, more than doubled the budget deficit and slowed growth during President Dilma Rousseff's first term. Such policies were still in effect when the central bank began raising rates in October.
Since December, the new economic team led by Finance Minister Joaquim Levy has raised taxes, cut spending and subsidized loans to companies, and lifted interest rates in an effort to regain investor confidence.
Quantitative Easing
The ECB this month committed to quantitative easing worth at least $1.3 trillion. The Bank of Canada cut its rate on overnight loans between commercial banks by a quarter point to 0.75 percent on Jan. 21. India, which is projected to have higher inflation than Brazil this year according to a Bloomberg survey, cut rates by a quarter point on Jan. 15. The Bank of Japan has already boosted its asset purchases.
The scenario for convergence toward the 4.5 percent center of the inflation target in 2016 has strengthened, the monetary policy committee said. Monetary policy and the possibility of more restrictive public spending consolidate a more favorable macroeconomic outlook, it said.
Annual inflation in mid-January accelerated to 6.69 percent from 6.46 percent a month earlier, exceeding the 2.5 percent to 6.5 percent target range.
Wholesale, consumer and construction price increases, as measured by the IGP-M index, accelerated to 0.76 percent this month, the Getulio Vargas Foundation said on its website today. That was faster than all estimates from 29 economists surveyed by Bloomberg. Unemployment in December fell to 4.3 percent, tying the record low.
Analysts surveyed by the central bank forecast inflation will accelerate to 6.99 percent in December, breaching the year-end ceiling of the target range for the first time since 2003. They predict price increases of 5.60 percent in 2016.
Before it's here, it's on the Bloomberg Terminal.
LEARN MORE