Paying for the Privilege of Lending Japan Money
By and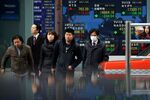 Mike Amey never thought he'd buy bonds from countries such as Germany and Switzerland when losing money on them was all but guaranteed. Then again, these are hardly normal times in the bond market. Europe faces a prolonged bout of deflation, and signs abound that global growth is weakening as oil prices plummet. Some clients are more than willing to lose a little money in return for the security of government debt, says Amey, a London-based fund manager at Pacific Investment Management Co. "It's not a good feeling," he says.
Bond prices are so high that yields on about $3.75 trillion of the developed world's more than $24 trillion in sovereign debt have turned negative as of Jan. 26 (bond yields fall when prices rise). That means investors effectively pay for the privilege of lending money to a dozen countries including Germany, France, and Japan. Benchmark yields in all 25 developed nations tracked by Bloomberg have fallen this year. "It's a unique situation," says Oliver Eichmann, co-head of fixed income at Deutsche Asset & Wealth Management, Germany's biggest fund manager. "We try to avoid buying or holding negative-yielding assets. This is something new and something we have to get used to."
On Jan. 22, European Central Bank President Mario Draghi pledged to pump €1.1 trillion ($1.2 trillion) into the region's economies by buying public and corporate debt. The bond purchases, which begin in March, will lift prices of even the most expensive bonds, meaning it's possible to profit from buying and selling negative-yielding debt, according to David Tan, head of global rates at JPMorgan Asset Management in London. "It still makes sense to hold the bonds," he says, when the alternative for banks is keeping funds on deposit at the ECB, where the interest rate is -0.2 percent. Tan purchased German five-year notes when yields fell to zero in January. Yields fell to an all-time low of -0.06 percent on Jan. 19.
Investors are flocking to government bonds in part because of the deteriorating outlook for the global economy. In January, the International Monetary Fund slashed its global growth forecast. Japan is mired in yet another recession, and China is slowing. The 58 percent plunge in oil since its high in June is also deepening concern about economic weakness. Even in the U.S., the bright spot in the world economy, consumer-price increases have failed to reach the Federal Reserve's 2 percent goal for 31 straight months.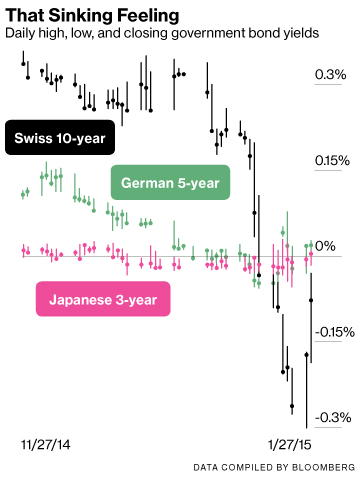 For the 19 nations that share the euro, things are even more dire. The region has been hobbled by a sovereign-debt crisis and two recessions since 2008. More than a dozen firms surveyed by Bloomberg, including JPMorgan Chase, Goldman Sachs, and Deutsche Bank, predict deflation in the euro area for 2015. In times like these, what matters is "return of capital and not return on capital," says Chris Ahrens, director at hedge fund Round Table Investment Management in North Carolina.
Many of the biggest money managers don't have much of a choice when it comes to owning the debt because they run a substantial number of index-tracking funds. Vanguard Group's $27.6 billion Total International Bond Index Fund, the largest of its kind, has more than 40 percent of its assets in Japan, Germany, and France. The three countries have the greatest amounts of negative-yielding bonds, data compiled by Bloomberg show. Josh Barrickman, head of Vanguard's U.S. fixed-income index group, says the fund's currency hedging offsets some of the impact of negative yields.
BlackRock, the world's largest asset manager, is the biggest bondholder in France, according to data compiled by Bloomberg. The company's top two holdings in the country, notes due in 2016 and 2018, yield less than zero, the data show. "The negative-yield environment at the front end is a big problem for many of our clients," says Michael Krautzberger, London-based head of euro fixed income at BlackRock.
For Japanese investors, owning European bonds, even some with negative yields, still provides higher returns than local issues, according to Hajime Nagata, who invests in non-yen-denominated debt at money manager Diam in Tokyo. About $2.25 trillion of bonds issued by Japan yield less than zero, and the average for Japanese government bonds of all maturities is 0.3 percent—less than half the average for euro area government debt. Nagata says his investment target is to beat his benchmark index by 1 percentage point or more. With euro bonds, "the absolute yield level is very low," he says. "However, it's better than Japanese government bonds."
The bottom line: Bond prices have risen so high that yields on $3.75 trillion of government debt have turned negative.
Before it's here, it's on the Bloomberg Terminal.
LEARN MORE