Asia's Drivers Are Losing to Americans at the Pump: Chart
Ann Koh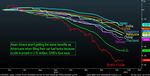 Car drivers from Beijing to Mumbai aren't getting the same benefit from oil's plunge as peers in Phoenix or Boston. Meanwhile, Asian governments are getting more bang for their buck.
The CHART OF THE DAY compares the price decline of Brent crude with retail gasoline costs in the U.S. and much of Asia. Oil's slide of about 55 percent since the start of June is most closely followed by the 44 percent drop at American gas stations. Pump prices in Taiwan and Thailand fell the most in Asia, more than 30 percent, with India and Japan seeing about half those declines, data compiled by Bloomberg show.
Consumers in some Asian nations that subsidize fuel costs are missing out on the full benefit of crude's slump enjoyed at pumps in the U.S., as governments use cheaper supplies as a chance to cut subsidies and bolster state budgets. The advantage is eroded further as the 15 percent gain in the dollar since June makes importing oil more expensive in local currencies.
"It's very good for the Asian state budgets, but not felt as much by petroleum consumers," said Torbjoern Kjus, chief oil analyst at DNB Markets in Oslo. "The price for global oil consumers who pay in currencies other than the U.S. dollar when they fill their car" has increased relative to what American drivers now pay, he said.
China, Japan and India rank as three of the world's four biggest oil users, with the U.S. the biggest market, according to data from BP Plc's Statistical Review of World Energy. China and India are among Asian nations that subsidize fuel prices.
"While gasoline prices haven't fallen that much from already-low levels in Asia, state budgets no longer need to buy expensively in the global market and sell cheaper in the domestic markets," Kjus said.
Before it's here, it's on the Bloomberg Terminal.
LEARN MORE