Charlie Rose Talks to Alibaba's Jack Ma
By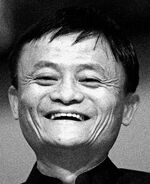 Tell me about the size of Alibaba and its IPO.
We have over 100 million buyers visiting our site and shopping at our site every day. We've created 14 million jobs for China directly and indirectly. And we've grown from 18 people in my apartment to 30,000 people on four big campuses. I remember, in 2001, we went to raise some $3 million in venture capital in the U.S. and got rejected. So we've come back and raised a little bit more: $25 billion. This is not money; this is trust from the world, trust from the people. They want us to do a better job and help more people. And they want to have a good return. So it puts more pressure on me.
You got used to rejection. Weren't you turned down for admission to college?
There's an examination for young people to go to university. I failed it three times. I failed a lot. So I applied to 30 different jobs and got rejected. I went for a job with the police; they said, "You're no good." I even went to KFC when it came to my city. Twenty-four people went for the job. Twenty-three were accepted. I was the only guy. …
Your life is a testament to the idea that nothing is impossible. Where does that come from?
When I was young I said, "Everything is possible." Now I know that not everything is possible. In the beginning I just wanted to survive. For the first three years, we made zero revenue. I remember many times when I was trying to pay up, the restaurant owner would say, "Your bill was paid." And there would be a note saying, "Mr. Ma, I'm your customer on the Alibaba platform. I made a lot of money, and I know you don't, so I paid the bill."
You've talked about creating trust. How did you do it? Did it have to do with using escrow accounts in the beginning to hold payments until the goods were delivered?
The escrow service is about Alipay. It was a big decision, because for the first three years we didn't do any business because there was no [way to do] payments. I talked to the banks. No banks wanted to do it. They said, "This thing will never work." People didn't like it. So many people I talked to at that time about Alipay, they said, "This is the stupidest idea you've ever had." I didn't care if it was stupid as long as people could use it. Now we have 800 million people on Alipay.
How do you handle situations where Beijing wants access to Alibaba's files?
So far, I don't have these kinds of problems with the Chinese government. I've told them that if they come to me for national security, for antiterrorism, we can work together. As for the rest, the answer's no. I said, "We're a business. The data's so precious." I know that if we give information to anybody, it will be a disaster. On privacy issues, it's just like hundreds of years ago when people said, "I would rather put my money under my pillow than in a bank." But today banks know how to protect money much better than you do. Today we may not have the answers to privacy issues, but I believe our young people will come up with the solutions.
How did you settle on the name Alibaba?
When I was starting out, I thought about how the Internet is global and that we should have a global name, a name that's interesting. At that time, the best name was Yahoo! Suddenly I thought, "Alibaba is a good name." I happened to be in San Francisco that day. The waitress comes, and I asked her, "Do you know about Ali Baba?" She said, "Open sesame." So I went out onto the street, asking 10, 20 people. They all knew about Ali Baba. I decided it was a good name. Plus, it starts with A, so it's always on top.
Where does Alibaba go from here?
I hope that we can serve 2 billion consumers, including outside China. We helped Washington farmers sell 300 tons of cherries last year. We started a preorder, and 80,000 families ordered cherries. Within 48 hours we sold them all. We got a lot of letters of complaint saying, "Why only 300 tons?"
Watch Charlie Rose on Bloomberg TV weeknights at 7 p.m. and 10 p.m. ET.
Before it's here, it's on the Bloomberg Terminal.
LEARN MORE