Africa Seeks Boko Haram Fighting Force as Chad Captures Town
William Davison and Chris Kay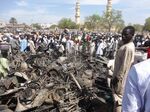 Chadian forces captured a Nigerian border town from Boko Haram as African leaders seek a strengthened multinational force to help combat the growing Islamist insurgency.
Chad's military liberated the northeast town of Malam Fatori, Mike Omeri, a Nigerian government spokesman, said by phone Friday from the capital, Abuja. The town was subjected to a ground and air assault on Thursday morning, with Chad's army planning to move into other captured parts of Nigeria, Jubrin Gunda, a spokesman for a Nigerian militia group, said by phone from the city of Maiduguri.
Forces from Nigeria, Cameroon, Niger, Benin and Chad will make up the bulk of a mission that must be approved by the United Nations Security Council, Smail Chergui, the African Union's peace and security commissioner, told reporters late on Thursday in Ethiopia's capital, Addis Ababa.
"Hopefully now with this concept, this force will be better organized, and we can achieve the goal we are looking for, which is to stop the killing and barbaric acts of Boko Haram," he said after a meeting of the AU Peace and Security Council.
Force Overrun
Boko Haram has killed more than 13,000 people, according to Nigeria's government, since it started a violent campaign in 2009 to impose Islamic law in Africa's biggest oil producer. The group has declared a caliphate in northeastern Nigeria that's the size of Belgium and its advances are intensifying pressure on President Goodluck Jonathan as he seeks re-election next month.
African leaders agreed last year to use the existing Multinational Joint Task Force to combat the militants. Countries in the region have pledged to contribute a battalion of troops each to the force.
Earlier this month, Boko Haram forces overran a military base that served as the headquarters of the task force when they attacked the town of Baga, committing mass killings and forcing thousands of people to flee, according to the AU. Amnesty International, the London-based human-rights group, said hundreds of people died in the attack.
"It is recommended that the countries of the region be authorized to increase the strength of the MNJTF up to 7,500," the AU Peace and Security Council said after yesterday's meeting. The task force has yet to be given an official mandate, a step that's needed before the UN Security Council can authorize its deployment.
'Clear Danger'
UN Secretary-General Ban Ki-moon cited Boko Haram as a "clear danger to national, regional and international peace and security, in a speech Friday at the opening session of a two-day AU summit in Addis Ababa. He also said that ''counter-terror efforts that fail to respect human rights can make the problem worse.''
While Nigeria's military isn't in want of manpower, it does need more ''capability in terms of hardware," Omeri said. He couldn't immediately confirm the number of casualties from the battle at Malam Fatori.
Africa's largest economy already has an "arrangement with Chad and Cameroon" for cross-border military incursions to battle Boko Haram, said Omeri.
Before it's here, it's on the Bloomberg Terminal.
LEARN MORE