Jewelry
Ten Non-Rings to Get Your Girlfriend for Valentine's Day
Bling without the commitment
By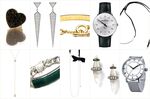 So you've got a girl. You like her a lot. You want to get her something nice for Valentine's Day, something sparkly and expensive. But you're not quite ready to make the ultimate commitment. 
It's quite the predicament. 
You want her to feel special, but you don't want her getting the wrong message. Marriage might be nice but not at the moment. Take courage, my good man. It can be done. 
For starters, steer away from rings—they're a slippery slope. Even if it's cool and casual and has a pearl instead of a diamond, the shape alone is enough to make her think it's some sort of "promise" (godspeed if you end up slipping it on her finger, too).
Instead, choose something smart, something that tells her you spent time thinking about what she would really want for the occasion, something as unique as she is. In other words, choose something off this list.
Earrings

Zoe Chicco Black Heart and Arrow Studs: This is our one nod to the fact that for some people, it's not Valentine's Day without a heart-shaped something. So if you must, this 14K gold arrow and black diamond pavé pair of stud earrings offers just enough twist on the motif to match her cool-girl status.  $435

Finn Pavé Diamond Small Dagger Earrings: She's a killer in the boardroom—or in bed. Either way, show her you love her power with these diamond daggers. They're 18K white gold with white diamond pavé encrusted along the blades. They're elegant but edgy. $4,750
Pamela Love Planetary Spike Earrings: These quartz spikes orbited by rings of jewels hold an otherworldly allure. They come with both champagne and white diamonds plus 18K oxidized white gold—perfect for a strong and powerful woman. $5,540
Bracelets

Eddie Borgo Small Zenith Cuff: Here's a downtown-cool (read: more affordable) version of that iconic Cartier cuff your girl's no doubt had her eye on at some point. It's a small Zenith cuff with toggle closure and interior engraved logo. Lock her down. $200

Ann Dexter-Jones Malachite Large ID Bracelet: Is your girl a hippy/cowgirl/free spirit type? Does she wear chunky pieces in silver with interesting stones such as jade or topaz and coral? Then add this to her collection. A heavy curb-chain bracelet holds a small gold charm and deep green rock front and center. It's a strong statement for your earth mother type. $3,630
Watches

Bravur Round Face Watch with Milanese Mesh Bracelet Band: Watches are a smart, unique alternative to typical jewelry presents—this one's mesh strap is so pretty it may as well be a bracelet anyway.  Stainless steel with 41mm clean white face, this Bravur fronts a Swedish minimal style and is perfect to stack with other bangles. $790

Meistersinger Neo Watch: At 36mm, this watch is petite enough to easily fit any woman's wrist, but its 1950s style and crocodile-print leather band is strong and handsome enough to wear with evening clothes. In a word: chic. $1,350
Necklaces

Loren Stewart Gold and Black Leather Chocker: Does your gal wear a lot of YSL? Does she travel frequently to Paris and Tokyo? Get her this black and gold choker. The 14K gold bar and tips offset the noir quality of the leather strap—dark and beautiful, just like her. $485

Lanvin Perles Royales Necklace: Here's how to get her pearls without making her feel like an old lady: Combine them with glass crystals and pewter square charms on black grosgrain ribbon. This necklace is 72 inches long, so there's plenty of room to double or triple it up around her neck. $955

Jennifer Fisher White South Sea Pearl Cleavage Chain Necklace: This fine chain and South Sea pearl will nestle beautifully against her delicate neck, yes, but it's the drop effect of the second pearl that makes it unique—and seductive. $2,500 
Before it's here, it's on the Bloomberg Terminal.
LEARN MORE