Why China May Not Follow Singapore in Global Push for Weaker Currencies
If China is to join the global push for more monetary easing, it may be more likely to use rate cuts or lower banks' required reserve ratios
by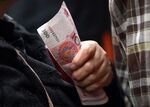 The global push for weaker currencies saw a new entrant today: Singapore. With the euro-area pledging QE, more easing projected for Japan and ASEAN nations, China may be the exception in seeking to keep its currency steady.

Here's a few reasons why:
Exports: China's exports have held up over the past year or so, even as its currency strengthened against competitors including Japan and Taiwan. So is a weaker yuan really needed?

Rebalancing: A weaker yuan could push up import prices, undermining consumption and efforts to rebalance the economy.
Size: China's economy is about 30 times larger than Singapore's and not nearly as open, so a similar move wouldn't have the same effect on growth.

Outflows: The rivers of cash flowing into China have slowed and more money is leaving. A weaker currency could accelerate capital outflows, worsening liquidity at home.
Debt: Chinese borrowers have $773 billion in outstanding bonds and loans denominated in dollars, according to data compiled by Bloomberg. A weaker yuan would make servicing such obligations harder right at the same time profits fall and the economy slows.
U.S. response: Any move to lower the yuan could trigger a response from the U.S., which has long accused China of keeping its currency too low to fuel exports and employment.
Reserve currency: Later this year, the International Monetary Fund will be reviewing currencies for reserve status. A weaker yuan may undermine China's efforts to win that label.  
History: As regional currencies tumbled during the Asian Financial Crisis, China kept its currency steady and its economy rode through the storm. It kept the unit tightly pegged against the U.S. dollar through the 2008 financial crisis and resulting global recession, and allowed appreciation again from mid-2010.
The upshot: If China is to join the global (ex-U.S.) push for more monetary easing, it may be more likely to use interest-rate cuts or lower banks' required reserve ratios than a weaker currency.
"China's so much bigger and different than Switzerland, Singapore and most Asian economies that a cheaper currency has less impact on the domestic economy,'' Sean Yokota, the Singapore-based head of Asian strategy at Skandinaviska Enskilda Banken AB, wrote in a report today. "China would rather support the economy through interest rates than the exchange rate.'' 
Before it's here, it's on the Bloomberg Terminal.
LEARN MORE