Watching the Loretta Lynch Hearings: Day 1
A liveblog of the Senate Judiciary committee hearing.
By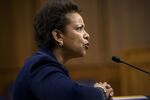 As expected, Wednesday's confirmation hearing of Loretta Lynch for U.S. attorney general began as a referendum on outgoing A.G. Eric Holder and his scandals. The Senate Judiciary Committee, led by Republican Chairman Chuck Grassley, has grilled Lynch on immigration, the Internal Revenue Service, relations between law enforcement and communities, and whether waterboarding counts as torture.