Watching the Loretta Lynch Hearings: Day 1
A liveblog of the Senate Judiciary committee hearing.
By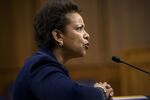 As expected, Wednesday's confirmation hearing of Loretta Lynch for U.S. attorney general began as a referendum on outgoing A.G. Eric Holder and his scandals. The Senate Judiciary Committee, led by Republican Chairman Chuck Grassley, has grilled Lynch on immigration, the Internal Revenue Service, relations between law enforcement and communities, and whether waterboarding counts as torture.
Update, 5:51 p.m.: Chairman Grassley thanked Lynch for her patience enduring the day's "chaos," and adjourned the hearing for the day. 
Update, 5:20 p.m.: Chairman Grassley asked Lynch what she thought Eric Holder's biggest mistake was in the handling of Fast and Furious, and what would she have done differently. 
"I certainly think that the Attorney General himself has said that he made mistakes in general, and he's been very open and frank about that," she said, adding that she wasn't involved in the program enough to know what options Holder had to choose from. 
After another recess, Senator Cruz returned to ask Lynch if it's constitutional to use a drone strike against a U.S. citizen on U.S. soil who doesn't pose an imminent threat. Lynch asked for more context, adding that "with respect to lethal force of any means … the use of lethal force is generally regulated by police guidance or by the nature of the interaction. Based on what you are describing, I don't see any interaction between the American citizen that you are referring to and anyone to generate the lethal force that you are referring to."
Cruz replied that he was "disappointed" that "like Eric Holder, you are refusing to give a simple, straightforward answer."
The Texas Republican then asked if Lynch would have trusted John Mitchell, the former Attorney General under President Nixon, to investigate the Watergate scandal.
Update, 4:48 p.m.: In a clear comparison to what he considers President Obama's unconstitutional executive orders on immigration, Senator Ted Cruz asked Lynch a series of questions about whether a hypothetical President John Cornyn would be able to decide to ignore certain laws. "I certainly can't imagine President Cornyn taking that step," Lynch said, adding that she would have to know the legal basis behind the proposed move.
"I must say I find it remarkable that you can't answer that question," Cruz replied. "I can answer it straightforward, it would be patently unconstitutional," he said, saying that he found her response "discouraging."
Cruz yielded to Senator Franken, who joked that, "I'm a little shook up about that President Cornyn thing. I got here and suddenly Cornyn was president." 
Update, 4:14 p.m.: In a second round of questions with Senator Schumer, Lynch said that she does not believe undocumented immigrants have a right to work.
Earlier in the day, in response to Senator Sessions, Lynch said that she believed "the right and the obligation to work is one that is shared by everyone in this country, regardless of how they came here." That comment was pounced upon by right wing blogs.  
During Senator Graham's second set of questions, he asked Lynch what recommendation she would give to an American citizen planning to join the Islamic State or al Qaeda. "My recommendation would be 'do not do it, of you will face American justice.'"
"Well not even American justice, you could get killed, if we can find you," Graham replied. 
Update, 3:42 p.m.: Senator Jeff Sessions, an Alabama Republican, apologized to Lynch for the constant interruptions to the hearing due to votes on the Senator floor, then repeated an earlier question from several Senators over whether she believed the president's executive order is legal and constitutional. 
This time she said she believes it is.
Lynch was also clear when asked by Sessions if she supports the legalization of marijuana. "Senator, I do not," she said, adding that it would not be the position of the Department of Justice if she was nominated. 
Update, 3:30 p.m.: Senator Thom Tillis, the North Carolina Republican started with a question on voter ID laws and how the Justice Department would decide in such cases. Last July, while Tillis was Speaker of the House in North Carolina, the Justice Department under Eric Holder sued the state over its voter ID law.  
Lynch said that the right to vote is fundamental, but "certainly not all voter ID laws are problematic," it depends on the law. 
Perdue closed by noting that a few North Carolina college basketball teams could likely beat Lynch's home team, the New York Knicks. "That is likely true," she replied.
Updated, 3:00 p.m.: Georgia Republican David Perdue, the latest Senator to question Lynch at the hearing, asked about her role in the case of Francois Holloway, a man sentenced to a 57-year mandatory minimum in 1995. From The New York Times:
The resentencing hearing came to be only after the judge, John Gleeson, persuaded Loretta E. Lynch, the United States attorney for the Eastern District of New York, to vacate two of the three convictions against Francois Holloway, who had been prosecuted on carjacking and other charges.
Lynch said that she saw grounds to allow the judge to reconsider the case, but "before we did that it was important for me to talk to every victim in that case." Holloway was resentenced to time served.
The committee is now taking a 10 minute recess to retrieve Senator Thom Tillis, the North Carolina Republican, from the Senate floor. 
Update, 2:27 p.m.: Louisiana Republican David Vitter is also concerned about immigration, or in his words, "amnesty for illegal aliens," and has the props to prove it—boards with passages from the Immigration and Nationality Act. 
Update, 2:07 p.m.: Post-lunch, Lynch answered questions from a mildly combative Ted Cruz, a Texas Republican, on immigration (again), and a friendly Al Franken, a Minnesota Democrat, on the prison system and how her lunch was ("Excellent, thank you sir"). After a series softball questions, Franken seemed pretty convinced. 
Update, 12:50 p.m.: After Lynch discussed the criminal justice system with Rhode Island Democrat Sheldon Whitehouse, and whether citizens should be targeted or punished by the government with Utah Republican Mike Lee, she faced a last set of questions before lunch from Senator Amy Klobuchar, a Minnesota Democrat.
"I understand that I'm the only thing standing between you and your lunch," Klobuchar said, before highlighting moments in Lynch's biography (Lynch's high school said it would be too controversial if she was the only valedictorian).
Klobuchar asked about sex trafficking and about how the department handles young people who are radicalized online and travel to fight in extremist groups. Lynch said some of the work she's "most proud of" has been her work on human trafficking.
The committee is now adjourned until 1:35 p.m.
Update, 12:25 p.m.: Senator Lindsey Graham, a South Carolina Republican, started off one of the more interesting questioning sessions by asking Lynch if she believes in the death penalty.
"I believe that the death penalty is an effective penalty," Lynch said, adding that her office has pursued it in the past.
Graham then asked how much would it cost to deport 11 million undocumented immigrants (she didn't know the number off the top of her head), whether the NSA's spying program legal (it's "certainly constitutional and effective," she said), and what her advice would be for a state intending to legalize recreation marijuana. ("The department would have an obligation to inform them of the current federal laws," she replied.) 
Graham closed by asking about the justification for legalizing gay marriage but not legalizing polygamy. Lynch replied, "I look forward to continuing the discussion."
Update, 12:08 p.m.: Senators Jeff Sessions of Alabama and Chuck Schumer of New York both questioned Lynch on immigration and prosecutorial discretion. While Sessions, a Republican, grilled Lynch, Schumer, a Democrat, noted that Sessions likely used prosecutorial discretion during his time as Alabama attorney general.
Senator John Cornyn, a Texas Republican, asked Lynch if she believed that her job was to act as a political tool for the White House. Not surprisingly, she said that was a "totally inappropriate" use of the job. "I think I have to be willing to tell…my colleagues no," she said.
Lynch said that her job involves giving the president her judgment on when "there is a legal framework for certain actions and when there is not a legal framework for certain actions."
After going through a list of criticisms of Holder, Cornyn asked Lynch how she would be different from her predecessor. "I will be myself, I will be Loretta Lynch," she said. 
Original post: In her opening statement—which Senator Patrick Leahy, a Vermont Democrat, called "moving"—Lynch promised to be an independent attorney general. 
Grassley, an Iowa Republican, began the hearing with a question on President Barack Obama's immigration order, and whether the president has the authority to defer deportations. "I don't see any reason to doubt the reasonableness of those views," Lynch said of the administration's legal justifications for the order. Senator Orrin Hatch, a Utah Republican, asked Lynch to read Licensed to Lie, a book about corruption in the Justice Department. She said she would. 

During a friendlier question-and-answer session, Leahy referred to a 2012 case in which a man was sentenced to two years for raping two young boys. Lynch pressed federal charges against the man, for which Fox News anchor Bill O'Reilly called Lynch a "hero." Leahy also asked Lynch if she believes waterboarding is torture, and thus illegal. 
"Waterboarding is torture, Senator," Lynch said.
"And thus illegal?" he asked.
"And thus illegal," she said.
Related Bloomberg Politics coverage:
Stay tuned to this page for updates all day long...
CORRECTION: An earlier version of this story misstated Senator Pat Leahy's party affiliation.