YouTube Stars Expand to Snapchat
Lucas Shaw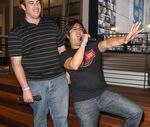 Snapchat Inc. is getting its own superhero series, the latest sign that the ephemeral-messaging startup is becoming an attractive destination for entertainment companies.
AT&T Inc. and two online studios, Astronauts Wanted and Fullscreen Inc., are collaborating on "SnapperHero," in which celebrities from YouTube and Vine play superheroes in short clips. Snapchat isn't making the series -- like Google Inc.'s YouTube, it hosts the creations of its contributors, and the posts will show up in user feeds like everything else.
"SnapperHero" is the latest example of the entertainment industry's growing fascination with Snapchat, maker of the app, popular among teenagers, that lets users send photos that disappear within seconds after they're viewed. The Los Angeles-based company, valued at $10 billion in its latest fundraising, on Tuesday announced a new feature that will highlight videos from partners such as Time Warner Inc.'s CNN and Yahoo News.
While CNN and Yahoo will offer news, "SnapperHero" will be the first scripted series created specifically for the app, its producers say.
"This is a big push for us to try and use the platform in a way that it hasn't been used before," producer Billy Parks said. "It's learning how to use Snapchat to tell a story."
Jill Hazelbaker, a spokeswoman for Snapchat, declined to comment because she was unfamiliar with "SnapperHero."
YouTube stars have been making their way to other social-media platforms, including Vine, the Twitter Inc.-owned short-video site, and Snapchat.
Previous Partnership
For "SnapperHero," there will be 12 installments each of 100 to 200 seconds. On Wednesday, YouTube personalities Anna Akana, Freddie Wong and others will start promoting the series, which will start later and run through March. Each episode will disappear after a set amount of time.
The Snapchat-based series grew out of a previous partnership between producer Parks and Dallas-based AT&T on the show "@SummerBreak," a reality series viewed only on social-media platforms like Vine and YouTube.
They used Snapchat to offer behind-the-scenes footage from production of the second season, which followed students at a couple of Southern California high schools.
"We went through the '@SummerBreak' results and we were blown away by the engagement we saw," Liz Nixon, AT&T's engagement marketing director, said in an interview.
Fullscreen, which along with Astronauts Wanted will produce the videos, is majority owned by Otter Media, a venture between AT&T and Chernin Group, run by former News Corp. executive Peter Chernin.
Fan Role
As with "@SummerBreak," fans will have a big role in the telling of the story. The show's stars will use social media to engage with followers before, during and after the production.
Over the next week Akana, a comedic actress, and Wong, a filmmaker with a fanboy following, will ask their large followings across Facebook, Twitter and other social platforms to help determine their superhero identities, costumes and origin stories. Wong has more than 7.4 million subscribers on YouTube; Akana has more than 1.1 million.
Snapchat, which says it processes more than 700 million disappearing photos per day, has formed video partnerships of its own. CNN, Walt Disney Co.'s ESPN and Yahoo Inc. are among the participants in its Discover feature announced on Tuesday.
CNN's channel will be sponsored by BMW North America, according to a spokesman for the news network, which has assembled a team to produce five stories a day. They will begin with an arresting first image -- bold text and font -- and then offer text or a longer video.
"Nobody knows what will work on this platform yet because so much hasn't been tried," Andrew Morse, senior vice president at CNN in charge of digital editorial efforts. "Organizations need to be willing to try and fail."
Before it's here, it's on the Bloomberg Terminal.
LEARN MORE