Toyota Gets China Media Blowback Over Abe Plugging New Car
Bloomberg News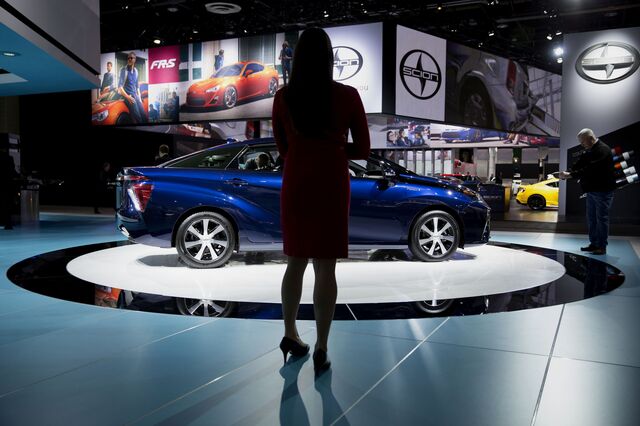 Toyota Motor Corp., already falling behind competitors in China's car market, is encountering backlash from Chinese media over Japan Prime Minister Shinzo Abe's endorsement of its new Mirai fuel-cell sedan.
The automaker will face "turbulence" in its China sales after delivering its first hydrogen-powered Mirai to Abe earlier this month, according to a report carried on the websites of state-backed Xinhua News Agency and People's Daily, the official newspaper of the Communist Party. Abe told reporters the Mirai was "very comfortable" after a Jan. 15 test drive at his official residence, and said he wants all of Japan's ministries and agencies to have it.
Toyota's weak position in China poses a threat to its status as the world's largest carmaker, with Volkswagen AG bolstering its already-dominant position in the market by opening another assembly plant there this year. The company also is dealing with threats by local dealers to drop out of its distribution network, citing poor sales and profitability.
The automaker missed its sales projection for 1.1 million units in China in 2014, even as the Corolla and the Levin compact cars helped boost sales 13 percent to 1.03 million units. The company ranks sixth among global automakers in China and sells less than one-third as many vehicles as General Motors Co. and Volkswagen in China.
China Tensions
Japanese carmakers' sales have been vulnerable to geopolitical tensions with China, putting them at a disadvantage versus foreign carmakers including Volkswagen and GM. Toyota deliveries have suffered amid disputes over uninhabited islands controlled by Japan in the East China Sea, as well as after Abe's visits to a Tokyo shrine that honors Japan's war dead, including those convicted of Class-A war crimes.
"Measures Abe has taken over issues of Yasukuni Shrine and Diaoyu Islands has made the Sino-Japanese relationship very delicate," according to the report, using the Chinese name for the disputed islands. "Therefore, the endorsement is very likely to lead to turbulence in Toyota's sales in China."
Toyota spokeswoman Shino Yamada said that the automaker aims to work with various agencies and companies to promote a "hydrogen-based society," a phrase used by Abe to describe Japan's pivot from nuclear power following the March 2011 meltdown at the Fukushima Daiichi plant.
— With assistance by Craig Trudell, and Tian Ying
Before it's here, it's on the Bloomberg Terminal.
LEARN MORE