Super Bowl Advertisers Go Long
As brands look to pull your heartstrings, more Super Bowl spots are running 60 seconds or longer
by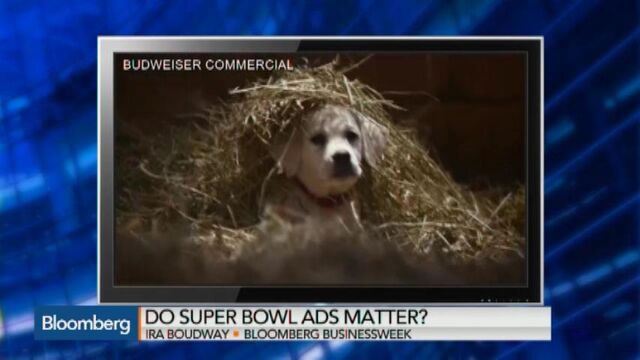 Thirty seconds is no longer enough on Super Bowl Sunday. Many advertisers would like a minute of your time, at least.
Last year's broadcast included 22 ads that ran for 60 seconds or longer, according to Kantar Media. These long-playing commercials accounted for 40 percent of all paid spots during the game, the most since at least 1984. Here's how the trend looks over the last five years:

The preference for a minute or more during the Super Bowl runs counter to a general trend toward brevity. Kantar data shows that 15-second ads now account for about 45 percent of all ads on national TV, up from 38 percent in 2011. Only 6 percent of ads on broadcast TV run a minute or longer. (Like most TV advertising, Super Bowl ads are sold in 30-second units; the average cost last year, according to Kantar, was $4.2 million per spot.) 
Yet the Super Bowl—the only reliable opportunity to reach more than 100 million U.S. viewers at once—runs by its own rules. Brands now look at the big game as a chance to stir hearts, rather than show off products or get laughs. And those tears take time to pool. "You can tell a more emotional story in the extra 30 seconds," says Jason Deland, a founding partner at Anomaly, the agency behind a pair of 60-second ads from Budweiser during last year's game. "There has been a decided shift in the last half dozen years toward brands seeking credibility, substance, and authenticity."  
The two Budweiser spots from last year—"Puppy Love" and "A Hero's Welcome"—are prime examples:
Deland traces the trend to 2011, when Chrysler aired the first of its "Imported From Detroit" Super Bowl spots. The carmaker convinced the NFL to expand one of its 90-second breaks to show the two-minute ode to Detroit, which was set to Eminem's Lose Yourself and culminated with the rapper arriving at the city's Fox Theatre. 
The ad drew widespread praise for Chrysler and its creative agency, Wieden + Kennedy. "We certainly never set out to make a two-minute ad," says Joe Staples, who oversaw the campaign and is now an executive creative director at W+K. The length and tone, Staples says, were the natural outcomes of the task at hand: a Hail Mary pass for a great American brand in desperate shape. "In hindsight, we probably looked smarter than we were because it led somewhere that was the antithesis of where everybody else was," he said. "Everybody else was doing fart-esque jokes in 30 seconds brought to you by a product."
The following year, Advertising Age named Chrysler marketer of the year. The automaker followed its Eminem hit with it extended Super Bowl sermons from Clint Eastwood (2012), Paul Harvey (2013), and Bob Dylan (2014). Other brands quickly followed suit. Below is a highly subjective survey of the 22 long ads from last year's Super Bowl, sorted into overlapping types: jokes, celebrities, product demos, and emotional appeals. Half of the ads fall into that last category, with Coca-Cola's "America is Beautiful," (also a W+K product), Microsoft's "Empowering," and Chevrolet's "Life" as other exemplars. 

Part of the pull toward long and somber ads is that they play well beyond the single airing during the game. Brands compete for raves in post-game reviews and for repeated sharing and viewing online. Budweiser's "Puppy Love" ad from last year has surpassed 55 million views on YouTube. And the ads get their own follow-ups, with extended versions and behind the scenes footage. In the Oscars of marketing—just as in the film industry—longer works with nobler themes tend to be taken more seriously. 
The lofty rhetoric also helps advertising agencies make their clients happy. "Some of these longer, anthemic spots can function as internal rallying cries for really big organizations," says Mark Fitzloff, also an executive creator director at W+K. Clients tend to like an ad "that says that the thing you go do in your job every day is awesome and helps a lot of Americans live better lives." Though not every company is eligible for the treatment: "Can Slim Jims do it? I don't know. I wouldn't want that assignment." 
Fitzloff, Staples, and Deland all expect the new earnestness in Super Bowl advertising to continue, even though they warn that it has already become clichéd. "It is running the risk of being overdone," says Deland. "Our heart muscle has worn sore of it," agrees Staples. "You won't see a big, self-important, voiceover-y, state-of-things-in-America commercial this year from us," adds Fitzloff.
"As the years pass since we did the first ones for Chrysler, it seems to be a sliding scale of appropriateness and quality," Fitzloff says. "Maybe this is the year for Slim Jims, after all."
Before it's here, it's on the Bloomberg Terminal.
LEARN MORE