Sarah Palin Returns With Teleprompter Glitches in Tow
The former Alaska governor says that a faulty TelePrompTer plagued the delivery of her speech before the Iowa Freedom Summit.
By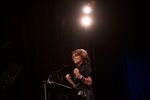 The more things change for Sarah Palin, the more they stay the same.
In damage control mode over her rambling, much-maligned speech at the Iowa Summit on Saturday, Palin appeared on Sean Hannity's Fox News show Tuesday to defend her performance by  simultaneously blaming teleprompter malfunction while asserting that her address went over just fine with the crowd. 
"I'm used to TelePrompTers not working. Remember at the GOP acceptance speech back in '08, the TelePropmpTer broke there, too. It didn't work and I kept on going, so no, you know, I don't know," Palin told Hannity. "I received a standing ovation throughout and at the end of the speech so I don't know, I think a lot of this herd mentality of some reporters would—that kind of exacerbates the criticism, but I don't know what anybody really would, when you talk about the meat, the content of the speech, would criticize when I talk about courage and integrity and a track record of any candidate that is needed in order to be able to sincerely serve the people of American who deserve real hope and real change and not more of the same, not more of the the status quo, this old energy, if you will, but we need new energy, new ideas." 
Whether Palin's TelePrompTer indeed malfunctioned at the 2008 Republican Convention remains a matter of debate, apparently. As websites like Drudge Report ran with headlines implying that Palin had ad-libbed her acceptance speech as John McCain's vice presidential nominee after her TelePrompTer froze, that notion was quickly debunked by eyewitnesses and the campaign itself.  While the machine functioned throughout the speech, "she was off the prompter at points," Jill Hazelbaker, a McCain-Palin spokeswoman, said at the time, ABC News reported.