Russia Reality Check: Ruble Slide Continues on Ukraine Sanction Angst
Vladimir Kuznetsov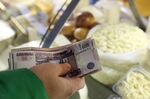 The ruble fell for the third time in four days and stocks retreated as oil prices declined and investors weighed the possibility Russia faces tougher sanctions over Ukraine.
The currency of the world's biggest energy exporter is under pressure as corporate debt payments loom and the U.S. and Germany agreed to hold Russia accountable for escalating violence in eastern Ukraine. Russia shouldn't expect a quick recovery in oil prices, Finance Minister Anton Siluanov said in Moscow today. Bonds gained as the government held its first auction since Standard & Poor's cut the country to junk.
"There are still no arguments to bet on the ruble," Dmitry Savchenko, an analyst at Nordea Bank AB in Moscow, said by phone. "Oil looks very weak, a decision on new sanctions may be taken as soon as on Thursday, the tax period is over, and the market is bracing itself for February and March, which will be difficult in terms of external-debt repayments."
The ruble lost 1.5 percent to 67.829 per dollar as of 7:28 p.m. in Moscow, while the Micex Index retreated 1.6 percent to 1,647.71. The yield on five-year bonds fell nine basis points to 15.13 percent. The Finance Ministry sold half of the 5 billion rubles ($74 million) of December 2017 floating-rate debt it offered today. Companies face $10 billion of bonds and loans maturing next month, part of $42 billion of non-ruble-denominated debt owed this year, data compiled by Bloomberg show.
S&P cut Russia's credit score on Jan. 26, sending the ruble to a record low against the dollar on a closing basis, as concern mounted Moody's Investors Service and Fitch Ratings will do the same.
Outflow Trigger
A further downgrade to junk by Moody's or Fitch could force investors to sell $4.66 billion of foreign-currency sovereign bonds and $1.1 billion of local-currency OFZ debt, JPMorgan Chase & Co. analysts wrote in a note to clients.
Russia's RTS Index fell 2.3 percent to 765.37. PJSC Magnit, the nation's biggest food retailer, slumped 9.5 percent, the most since March 3. The company said yesterday that profit growth slowed in the fourth quarter as the plummeting ruble made imported food more expensive. OAO Novatek slid 3.5 percent. Russia said it may reevaluate priorities for spending the National Wellbeing Fund money given the crisis, including the Yamal liquefied natural gas project where Novatek holds a 60 percent share.
The European Union and the U.S. are considering additional sanctions against Russia in technology, energy, defense and banking over its support for separatist rebels in eastern Ukraine. EU leaders threatened "further restrictive measures" as soon as Thursday, after the worst clashes between Russian-backed rebels and Ukrainian troops since a September truce.
"There are reasons to sell," Vladimir Evstifeev, an analyst at OAO Bank Zenit in Moscow, said by e-mail. "Geopolitics has clearly entered a new, active phase."
Before it's here, it's on the Bloomberg Terminal.
LEARN MORE