Renzi Seeks Berlusconi Help as Italy Elects New President
Chiara Vasarri and Lorenzo Totaro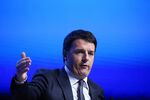 Italian Premier Matteo Renzi and former Prime Minister Silvio Berlusconi a year ago sealed a pact on constitutional reforms. Now that unusual alliance may help elect Italy's new president.
More than 1,000 lawmakers and regional delegates will meet at 3 p.m. Thursday in Rome to start voting for the new head of state, a complex process that could take several days to choose the successor to Giorgio Napolitano, Italy's longest-serving president. He resigned Jan. 14 due to his advanced age of 89.
Since then Renzi has been trying to find common ground across the political spectrum in case defections within his Democratic Party produces a stalemate similar to the one in 2013, when Napolitano reluctantly accepted a second mandate. At stake for Renzi, Italy's youngest premier, is electing a president who will help him build a consensus for his reform agenda and call early elections if needed.
"The working assumption has to be that Renzi has to try and make a deal with Berlusconi, but at what price is the question," said Marc Ostwald, a strategist at ADM Investor Services International Ltd. in London.
Forza Italia
This month Renzi needed the support of Berlusconi's Forza Italia party in a key vote on changing Italy's election law in the upper house of Parliament after some senators from the left-wing fringe of the Democratic Party (PD) opposed the government's line. Those rebels also have criticized Renzi's labor market overhaul and oppose their leader's alliance of convenience with three-time premier Berlusconi to push through the constitutional changes.
To win in the first three rounds of the presidential election, a candidate must secure two-thirds of as many as 1,009 potential votes, while from the fourth round an absolute majority of 505 electors is required. Renzi may lack as many as 200 votes from the fourth round if his party's dissidents oppose his line in the secret ballot.
Renzi has met at least twice with Berlusconi in the last two weeks as they search for a candidate who is regarded as non-partisan and able to attract votes from the governing majority as well as the opposition.
Blank Ballots
Renzi's party may propose Sergio Mattarella, a Constitutional Court judge and former defense minister, as head of state, though Berlusconi prefers former premier Giuliano Amato, Corriere della Sera reported today. Berlusconi's Forza Italia may cast blank ballots in the first three rounds, according to news agency Ansa. This may mean a president probably won't be elected until Jan. 31 at the earliest, when the fourth ballot is expected.
''The division within the PD remains the main risk Renzi will probably face, and this is what might lead to a political accident,'' UniCredit economists including Loredana Federico wrote in a Jan. 28 note. ''If he were to lose control of his party, the risk of snap elections occurring in 2015 might increase.''
Renzi's ability to close ranks will be closely watched because in the previous presidential election in April 2013 his party failed to elect its candidate for president, former premier Romano Prodi, amid the defection of about 100 lawmakers. That prompted Pier Luigi Bersani to resign as head of the Democratic Party.
Political Maneuvering
As the political maneuvering plays out, analysts say the impact on financial markets should be minimal even if the election drags on for several days. ''Failure to elect swiftly a new president would have limited fallout on financial markets in our view, given the recent QE announcement from the European Central Bank,'' said Silvio Peruzzo, an economist at Nomura International in London.
The ECB's unprecedented bond-buying plan announced Jan. 22 has crushed euro-area bond yields as investors jostled to get hold of government debt before the purchases begin in March. For the first time on record, Italy's 10-year borrowing costs fell below 1.5 percent on Jan. 23 as yields set all-time lows across the region. Since then they have risen on concern about how long the ECB will be able to insulate the rest of the region from the impact of Greece's new anti-austerity government.
Prodi's name has been mentioned among the candidates in the Italian press, as well as Bank of Italy Governor Ignazio Visco and former Minister for Equal Opportunities Anna Finocchiaro, a member of Renzi's party. ECB President Mario Draghi has said that while he's honored to be considered for the post, he's not a politician and he intends to stick with his job in Frankfurt.
The president of the Italian Republic is largely a ceremonial role, though the head of state in the Quirinale Palace in Rome is the guarantor of the country's constitution, oversees the armed forces and becomes the key arbiter during political crises.
Napolitano, for example, dealt with four government changes and two general elections during his unprecedented nine years in office, earning praise from Renzi as a stout defender of the European Union who confronted difficulties with "intelligence and wisdom."
Before it's here, it's on the Bloomberg Terminal.
LEARN MORE