Rand Paul's Difficult Romance with Kochworld
The libertarian hero and the libertarian donors don't always agree.
By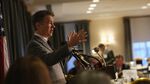 This morning, Politico's Ken Vogel and Tarini Parti reported that Kentucky Senator Rand Paul had underperformed at the past week's Koch brothers showcase. (More officially, it was a gathering of the donors who supported the Koch network of pressure groups, and who finally saw returns in 2014.) Many, including Bloomberg Politics' Michael Bender and Julie Bykowicz, had reported that Florida Senator Marco Rubio did himself the most good. Vogel and Parti reported on a "straw poll" that determined the extent of Paul's problem, conducted by Frank Luntz in a breakout session.